This Haunted Road Trip Will Lead You To The Scariest Places In North Dakota
If you consider yourself interested in the paranormal and you're looking for the spookiest, most notoriously haunted spots in North Dakota, then you're in luck. We've put together a road trip that will take you to some of the most haunted places in North Dakota, where decades' worth of ghost stories have been shared and endless tales of terror have been spread. It's the perfect kind of journey to take to get into a spooky mood… if you're brave enough!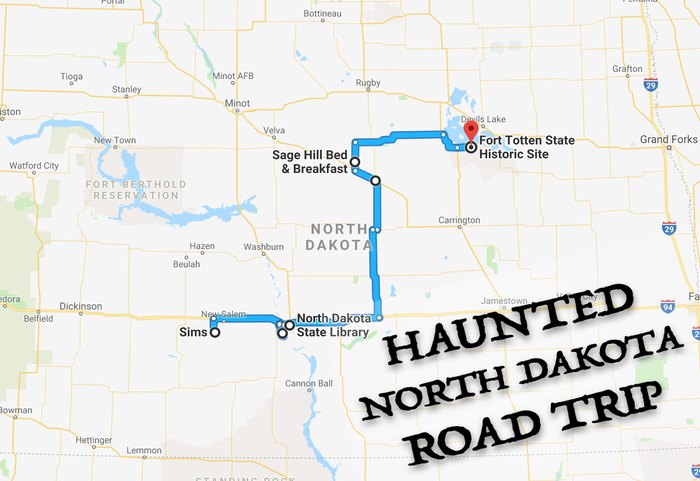 Have you been to any of these most haunted places in North Dakota? And if you have, have you had any creepy experiences there? North Dakota has tons of spooky, reportedly haunted places, but unlike the places featured on this road trip – not all of them are visitable. This sanatorium, for instance, is a place you should never go, not only because you'd be trespassing on private property – but also because it's by far the scariest place in all of North Dakota!
OnlyInYourState may earn compensation through affiliate links in this article.
Most Haunted Places In North Dakota
August 18, 2019
What is the most famous ghost story from North Dakota?
North Dakota is one of the larger states in our nation, and its spectacular expanse hides a great deal of history. It was admitted to the Union in 1889, but its landscape hosted indigenous cultures for thousands of years before the arrival of American settlers. Even so, most of the real North Dakota ghost stories seem to focus on more recent historic sites. The local sanatorium is said to be one of the spookiest North Dakota hauntings, and you can also find a spirit or two in the oldest building on the capitol grounds. While these are the some of the most infamous haunted sites in the state, you'll find haunted history across many towns and communities. Ask around about North Dakota ghost stories… a local is sure to know of one or two that's worth sharing!
What is the most haunted town in North Dakota?
While there are many cities in North Dakota, most of them are known for low unemployment, friendly residents, and interesting landmarks. All of that, however, is quickly forgotten when it comes to Fargo. This lovely community is the largest city in the state, and it's also said to host some of the most famous real haunted places in North Dakota. This spooky city hosts a history that's downright bizarre, in many cases, and it has the perfect recipe to create hauntings. Case in point: a local park once hosted a potter's field that was previously dug up… but locals murmur that some bodies are likely still resting there, long forgotten. Spooky.
What is the creepiest abandoned place in North Dakota?
In a place as unpredictable as North Dakota, it's no surprise that some towns were settled and, eventually, abandoned. There are a number of abandoned places in North Dakota, and many still stand as modern day ghost towns. The spooky and deteriorating community of Wheelock is one of the most well known ghost towns, but it's one of many. Temple also has zero residents in this modern age, but some towns, like Marmarth, are only partially abandoned. You'll find all sorts of spooks and scares in these creepy abandoned communities.