10 Of The Best Cabins In North Dakota For An Unforgettable Stay
North Dakota is an understated yet beautiful area of buttes, open prairie, and ancient river-cut badlands that hold a majestic beauty unlike any other. Whether you grab a yurt in Cross Ranch State Park, a hunting cabin in the remote plains near Teddy Roosevelt National Park, or a cabin on Lake Sakakawea, there are all kinds of cabin rentals that fit your desire to get away for a North Dakota adventure. Here are some of the best cabins in North Dakota for your next getaway.
Affordable Cabins in North Dakota
Many of the cabins in North Dakota are quite affordable because we don't always need to pay a premium for beautiful landscapes and a peaceful getaway. These two cabin rentals offer everything you need to enjoy what North Dakota has to offer.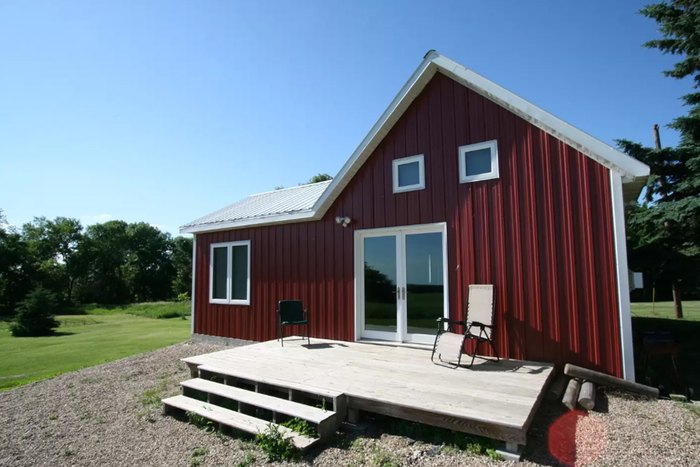 Luxury Cabins in North Dakota
If it's a large group getaway you need or you enjoy a little bit of luxury, these North Dakota cabins put a little pizazz in your family vacation. Because why not enjoy a game of pool with the fam now and then?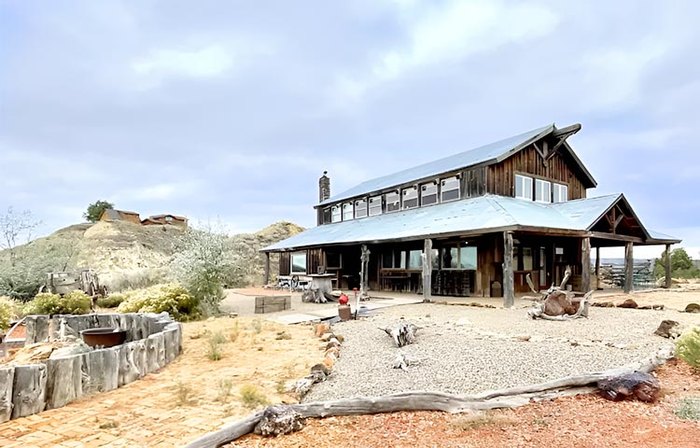 Romantic Cabins in North Dakota
A romantic getaway in North Dakota is all about enjoying the mesmerizing star-filled sky around an outdoor fire, or in one of these rentals, a "Presidential suite" at a replica historical site. Because why not treat you and that special someone to an unforgettable getaway in North Dakota?
Secluded Cabins in North Dakota
North Dakota is the ideal spot for a secluded cabin, with an open landscape or prairies, buttes, and big skies as far as the eye can see. These two cabins offer two different kinds of secluded getaways.
Cabins in North Dakota with Hot Tub
A relaxing hot tub soak is a bit of a luxury in North Dakota, but we found a couple of cabins with hot tubs that we think you'll love. An evening grilling up some steaks or burgers followed by a dip in the hot tub is our kind of vacation.
Getting away from city life in Bismarck or Fargo and into a remote cabin near one of North Dakota's lakes or state parks makes for a fun family adventure or a successful hunting trip. With these featured cabin rentals, you can choose the best cabins in North Dakota for whatever you look forward to the most in your vacation.
If you need a little inspiration for sights to see on your trip, check out these beautifully painted canyons, buttes, prairies, and natural landscapes in North Dakota.
Once again, here is our top ten list. Book one of these 10 best cabins for rent in North Dakota:
Best Cabins In North Dakota
OnlyInYourState may earn compensation through affiliate links in this article.
More Cabin Rentals In North Dakota
January 02, 2023
Where can I find secluded cabins in North Dakota?
Everywhere! North Dakota is a wonderland of open areas, sunlit canyons, and lakeside vacation spots. If you are looking for a peaceful getaway in nature North Dakota has got you covered. Here are a few secluded cabins that should do the trick: 1.
Buffalo Gap Guest Ranch
2.
Pretty Point Yurt
3.
Lewis and Clark State Park
How much do cabin rentals cost in North Dakota?
Cabins in North Dakota are very reasonably priced compared to much of the nation. With the exception of a few luxury cabins, you can find plenty of cabin rentals from around $100 to $200 per night. Here is a list of
cabin, cottage, and house rentals for under $200
per night.
Are there pet-friendly cabin rentals in North Dakota?
North Dakota is a destination that is perfect for dogs to enjoy the great outdoors too. Whether it's your hunting dog, or family pet there are a number of pet-friendly cabin rentals in North Dakota that would love to meet your furry friend. Many of our featured cabin rentals above allow pets, but here are a few more pet-friendly cabin rentals to check out: 1.
Cozy Cabin Near Bismarck
2.
Boots Cowboy Cabin
3.
Walleye Cabin