10 Best Natural Swimming Pools In North Carolina
Taking a dip in a pool is one of life's simplest treasures. And in North Carolina, we take things to the next level with our natural swimming pools. Swimming holes are basically Mother Nature's waterpark, offering a welcome change of pace from your typical water recreation. We've rounded up the 10 best natural swimming pools in North Carolina, so you can plan an epic experience reveling in The Tar Heel State's aquatic splendor.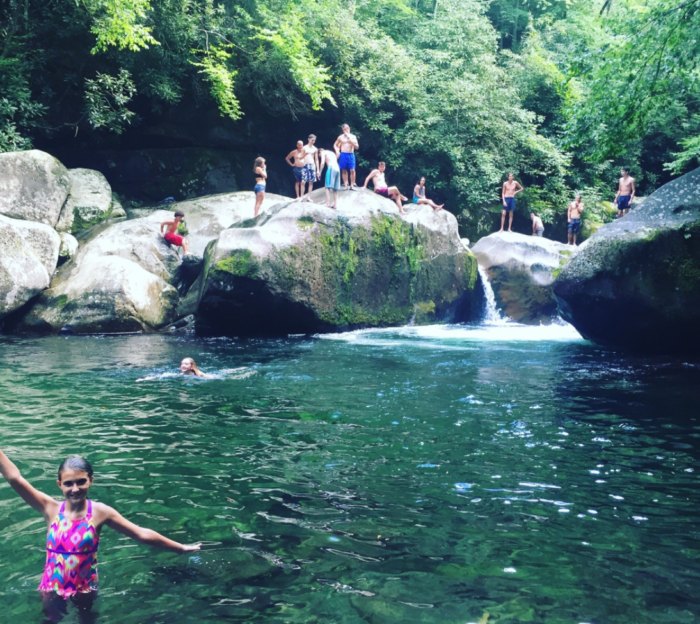 Did you know about these picture-perfect pools in North Carolina? What's your favorite swimming hole in The Tar Heel State? Share your thoughts with us in the comments below!
Address: The Quarry at Carrigan Farms, 1213 Oakridge Farm Hwy, Mooresville, NC 28115, USA
Address: Big Creek Trail, Cataloochee, NC, USA
Address: Carrigan Farm Rd, Millers, NC 28681, USA
Address: Hanging Rock State Park, 1790 Hanging Rock Park Rd, Danbury, NC 27016, USA
Address: Sliding Rock, North Carolina 28768, USA
Address: Silver Run Falls Trailhead, 35°04'00.9"N 83°04'01.1"W, Cashiers, NC 28717, USA
Address: Blue Ridge Pkwy, Canton, NC 28716, USA
Address: Eno River State Park, 6101 Cole Mill Rd, Durham, NC 27705, USA
Address: Staton Rd, Cedar Mountain, NC 28718, USA
Address: White Lake, NC 28337, USA
Natural Swimming Pools in North Carolina
March 31, 2021
What are the best beaches in North Carolina?
Nothing can compare to the beaches of North Carolina. Rugged and weather-worn, charming and accessible — North Carolina's beaches are absolutely the best in the country (not that we're biased). Many of these beaches are a bit off the beaten path, but well-worth the trip. For example, one of the best beaches in North Carolina, Outer Banks, is known for its wide expanse of open beachfront along the stunning Cape Hatteras National Seashore. While admittedly a bit out of the way, Outer Banks truly is a vacation that will leave you feeling relaxed, refreshed, and rejuvenated.
Does North Carolina have any lazy rivers?
There's nothing quite like floating the day away on a lazy river, and happy, North Carolina has many. One of our favorite lazy rivers in North Carolina is Deep Creek, a beautiful waterway near Bryson City that winds through the Great Smoky Mountains. Just like a "choose your own adventure" book, Deep Creek consists of two different courses, each of which offer a totally unique experience. For tubers looking for a somewhat wild and bouncy experience, the upper section is the way to go. If you're looking for relaxation and also a fun activity for small children, the lower section provides a smooth and easy ride down the river. This second option is total lazy river goals.
What kind of water recreation can you do in North Carolina?
Speaking of The Outer Banks, if you're looking for something that a water activity that everyone in the family can enjoy, definitely check out Coastal Kayak Touring Company. Offering several family-friendly excursions, you can explore Pine Island Audubon Sanctuary, the Full Moon Tour at Pine Island, or you could choose to paddle your way to Pea Island National Wildlife Refuge. Other water recreation opportunities in North Carolina include tubing, kayaking, canoeing, fishing, and lakeside camping. The opportunities for outdoor adventure in The Tar Heel State really are endless!
Address: The Quarry at Carrigan Farms, 1213 Oakridge Farm Hwy, Mooresville, NC 28115, USA
Address: Big Creek Trail, Cataloochee, NC, USA
Address: Carrigan Farm Rd, Millers, NC 28681, USA
Address: Hanging Rock State Park, 1790 Hanging Rock Park Rd, Danbury, NC 27016, USA
Address: Sliding Rock, North Carolina 28768, USA
Address: Silver Run Falls Trailhead, 35°04'00.9"N 83°04'01.1"W, Cashiers, NC 28717, USA
Address: Blue Ridge Pkwy, Canton, NC 28716, USA
Address: Eno River State Park, 6101 Cole Mill Rd, Durham, NC 27705, USA
Address: Staton Rd, Cedar Mountain, NC 28718, USA
Address: White Lake, NC 28337, USA