10 Amazing Places You Can Go On One Tank Of Gas In New York
When the sun is shining, and the wind is breezy, it's the perfect time of year to take a road trip. Depending on what kind of car you're driving, generally speaking, people can travel around 300 miles on one tank of gas. For today's trip, we're focusing on the northern Catskill region, a trip that has roughly three and a half hours of driving time, and covers 134 miles. Since the trip is only 134 miles, this gives travelers some wiggle room to add in extra stops like discovering more of what's along the Hudson River, shopping in the town of Woodstock, or even adding in an extra scenic drive to the Ashokan Reservoir. The options for the best road trips in New York are amazingly endless.
With the entire trip mapped out for you, right here, you'll be able to experience a beautiful and scenic drive through the Catskills. Bringing you to waterfalls, historic sites, nostalgic locations and even a couple delicious restaurants, you'll want to start packing your bags as soon as possible.
Ready to see what you'll discover on this charming road trip? Check out these 10 amazing places you can visit on one tank of gas: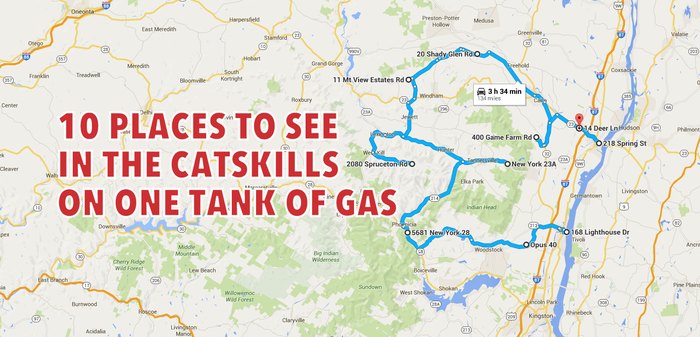 Who else is now feeling full of hunger and wanderlust? Are you ready to check out some of the best road trips in New York? To learn about more of our exciting New York road trips that we've mapped out for you, click here.
OnlyInYourState may earn compensation through affiliate links in this article.
Address: 168 Lighthouse Drive Saugerties, NY 12477
Address: 50 Fite Road Saugerties, NY 12477
Address: 5681 NY-28 Phoenicia, NY 12464
Address: 2080 Spruceton Road West Kill, NY 12492
Address: 11 Mt View Estates Road Windham, NY 12496
Address: 400 Game Farm Road Catskill, NY 12414
Address: 218 Spring Street Catskill, NY 12414
Address: 14 Deer Lane Catskill, NY 12414
Address: 20 Shady Glen Road East Durham, NY 12423
best road trips in New York
March 16, 2020
Are there any food-related road trips in New York?
New York has many iconic dishes that will tantalize your taste buds. From sweet to savory, the Empire State has claimed many different dishes as their own including bagels, pizza, wings, cheesecake and many others. For a finger-licking good wing road trip, head over to Buffalo where it all started. Anchor Bar is known as the creator of this tangy dish, so start there. Afterwards, you can try the wings at Wing Kings, Gabriel's Gate, and Mister Pizza Elmwood and see which ones you like the best.
What are the best day trips in New York?
New York has such a diverse landscape. From the concrete jungle of New York City to the rolling mountains of upstate, there's plenty to see and do on just one tank of gas. Driving through the Lakes of the Adirondacks is one of the most beautiful road trips you could take in New York, filled with gorgeous mountain scenery, this is one trip the whole family will love. Route 4 will take you on quite the scenic route through the Adirondacks, offering beautiful views of the Hudson River, Champlain Canal, Lake George, and Lake Champlain.
What are the most popular attractions in New York?
New York is one of the most visited states in the country, and for good reason. From the Statue of Liberty to the Adirondacks, the state appeals to both nature lovers and history buffs alike. One of the most popular tourist attractions in New York State is Niagara Falls, which spans the border between the United States and Canada. Comprised of three separate falls, these cascading waterfalls are some of the most impressive in the world. The largest of the falls, Horseshoe Falls, is the most powerful waterfall in North America.