The Ultimate Downstate New York Waterfalls Road Trip Is A Wonderful Little Trip
Recently we comprised for you the Ultimate Waterfalls Road Trip, mapping out seven breathtaking waterfalls that brought you around Western New York. Today we're here to remind you once again that our list of New York waterfalls truly feels like it's never-ending… in the best way possible of course. If you don't have a lot of time to devote to a week of tracking down cascades, embark on this shorter road trip to discover and enjoy the best waterfalls in downstate New York
Generally speaking, when it comes to New York's mountainous areas, most people choose to visit the more well-known Adirondack region, missing out on the refreshing and relaxing views you'll find tucked away in the Catskills. Featuring the tallest and most powerful falls in New York, this fully mapped-out road trip is ready to be at your service.
Coming in at just over 4 hours of driving time, this ultimate adventure to waterfalls in New York will have you feeling compelled to jump into your car immediately! We've got an interactive map for this road trip, so now all we need to know is… who's ready for a waterfall road trip in New York?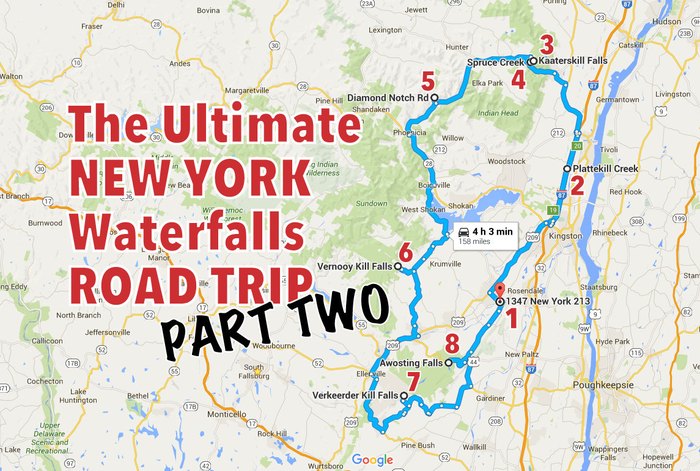 So, would you be up for taking this scenic New York waterfalls road trip? Having so many gorgeous waterfalls throughout our state means there are always more road trips to be tackled! Are there any waterfalls in the Downstate region that you would've liked to have added to this trip?
For more of the best waterfalls in the Empire State, take a look at these amazing hidden waterfalls in New York. Plan a trip to see them all and really get to know your own backyard a little better this year.
OnlyInYourState may earn compensation through affiliate links in this article.
More to Explore
best waterfalls in downstate New York
Which hikes in New York are short and sweet?
These hikes in New York are short and sweet:
Gorge Trail
Chimney Bluffs State Park
The Bluff Trail
Fillmore Glen State park is home to some of the most glorious hiking trails in New York. All of the trails in this park are less than 3 miles long, and the popular Gorge Trail is worthy of any outdoor bucket list. Chimney Bluffs State Park, in Wayne County, sits along the shores of Lake Ontario. The Bluff Trail is just over a mile long and offers stunning and unforgettable views of the water.
What are the best waterfall hikes in New York?
The best waterfall hikes in New York include:
Kaaterskill Falls
Watkins Glen
Delphi Falls
Minelot Falls
The Catskills and Adirondacks are full of stunning and impressive cascades. Kaaterskill Falls are among the most famous in the state, and you'll find beautiful waterfalls in the Finger Lakes, around Watkins Glen. Delphi Falls is another notable cascade, and John Boyd Thacher State Park is home to the picturesque Minelot Falls.
What are the most picturesque hiking trails in New York?
The most picturesque hiking trails in New York include:
Ampersand Mountain
Mt. Jo
Prospect Mountain
Ampersand Mountain is part of the Saranac Lake Six challenge, and the views from this beautiful peak are sure to impress even the most experienced climber. Mt Jo is one of the ADK High Peaks, and it's accessible all year long. In the fall, you'll find this gorgeous summit surrounded by breathtaking fall foliage. Prospect Mountain is one hike or drive that everyone should get to experience at least once in their lives, and the views of Lake George will forever stay in your memory.
Related Articles