Most People Don't Know These 7 Amazing Ice Bars In New York Exist
If you are looking for something unique to do this winter in New York, how about grabbing a drink at a New York ice bar? That's right, there are several bars and restaurants in New York that have special ice bar events in which they show off ice sculptures, bars made of ice, and craft cocktails celebrating the magic of winter in New York. Let's raise a glass at a beautiful ice bar in New York for a frosty winter adventure.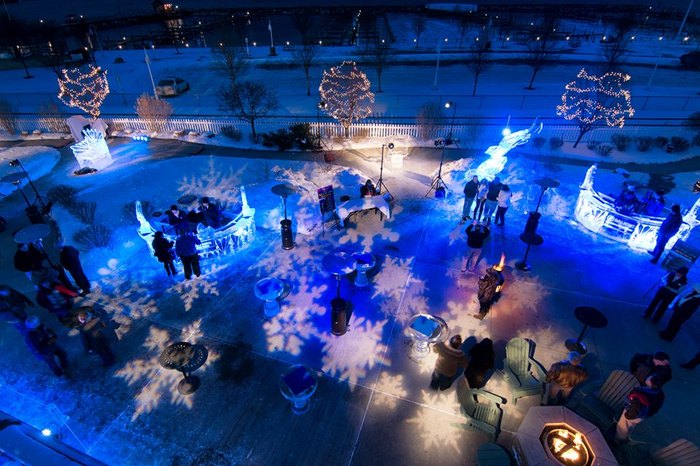 It sure is a unique winter experience combining ice sculptures, a bar made of ice, and lively illuminated cocktails. Have you ever been to an ice bar in New York or anywhere else for that matter?
Speaking of ice, don't miss out on seeing the one staggering ice castle in New York that you'll want to visit before it's gone!
OnlyInYourState may earn compensation through affiliate links in this article. As an Amazon Associate, we earn from qualifying purchases.
More to Explore
Chill-ax at one of these New York bars and restaurants
Where can you find an ice bar in New York?
New York will always keep you on your toes in the winter. But what better way to warm up and tackle winter on your own terms than enjoying a drink at a New York ice bar? Here are a few bars, restaurants, and hotels that have or have had ice bars in the winter:
Minus5 Ice Bar: New York Hilton (No longer available)
Polar Lounge: Harriet's Rooftop, Brooklyn, NY
Glacier Ice Bar: Sagamore Resort, Bolton Landing, NY
Funky Ice Fest: Adirondack Pub & Brewery, Lake George Village, NY
Winterfest at Erlowest: Lake George, NY
Forest Ice Bar: Holiday Inn, Lake George, NY
Ice Lounge: King Neptune's Pub (No longer available)
Garrison Ice Bar: Lake George Winter Carnival (No longer available)
What are the best winter rooftop bars in New York?
Just because it's winter in New York doesn't mean we can't enjoy a drink outside on top of the world. Cozy up to the heater, pull your jacket closed, and head to one of these winter rooftop bars in NYC.
1. 230 Fifth Avenue: A beautiful frozen bar in NY with actual igloos you can chill out in while enjoying a drink!
2. Refinery Rooftop: With amazing views of Midtown Manhattan the roof retracts on this epic bar for a little winter New York wonderland experience.
3. Mr. Purple: We're not talking about the color of your lips, but a brilliant bar inspired by a wintery ski lodge. Another igloo bar experience right here in NYC.
4. SERRA ALPINA by Birreria: Pure magic can be found at SERRA ALPINA in their greenhouse-inspired bar experience. Enjoy your favorite Italian dishes at this enchanting rooftop adventure.
5. Ophelia Lounge: Beekman Tower is hiding this gem in plain sight. Its "Snowglobe in the Sky" is a magical dining and bar experience you don't want to miss.
6. Haven Rooftop: Climb to the top of Times Square's Sanctuary Hotel to find this winter paradise filled with twining Christmas lights, little pine trees, and the ambiance of a winter ski chalet.
The magic of the New York skyline doesn't end when winter melts. Check out some of the best rooftop restaurants in New York all year round.
Related Articles
Explore New York