Go Hiking With Llamas In New York For An Adventure Unlike Any Other
There are certainly plenty of ways for our residents to stay busy any time of year. But there's just something so magnificent about springtime in New York. Many people in the Empire State will begin to start taking on our High Peaks or planning easier hikes to places like waterfalls. But if you're looking for fun stuff to do in NY, you need to check out llama hiking at Dakota Ridge Farm.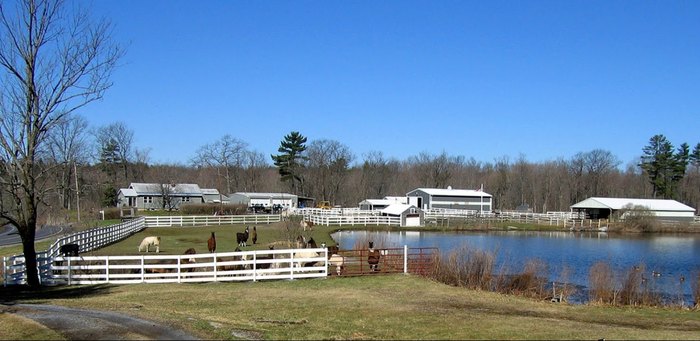 To find out more about the farm and its wonderful Llama Treks, head to the website for Dakota Ridge Farm.
Have you been llama hiking before? What do you think are the best hikes in New York? Tell us in the comments!
If you're searching for more fun stuff to do in NY, take a look at this waterfront Observatory in New York.
OnlyInYourState may earn compensation through affiliate links in this article.
Address: Dakota Ridge Farm, 189 E High St, Ballston Spa, NY 12020, USA
Fun Stuff to Do in NY
May 10, 2023
Are there any animal encounters in New York?
There is a ton of fun stuff to do in NY. Like checking out some of the many opportunities for animal encounters in New York:
Buffalo Zoo: Located within the city of Buffalo in Erie County, this zoo is actually the third oldest in the nation. Among the many animals you can observe, include giant anteaters, ocelots, and bald eagles. And what makes this place even more special is that they have many indoor exhibits, so you can visit year-round!
The Wild Animal Park: You'll find this spot in Chittenango. This private animal park features a ton of different big cats, like cheetahs and jaguars as well as giraffes, alligators, and black bears.
Utica Zoo: Opened in 1914, here, you can see more than 200 animals as well as have some unique encounters with African lions, California sea lions, and even red pandas.
Are there any classic general stores in New York?
If you love all things old-fashioned, check out these general stores in New York:
Catskill Mountain Country Store: Located in Windham and opened in 1994, at this store, you can grab an assortment of goods, such as old-fashioned toys, board games, and books. Over at the restaurant, you can grab breakfast or lunch. Try the buttermilk pancakes or one of the delicious sandwiches offered.
Vidler's Five and Dime: Located in East Aurora and in business since 1930, this massive store contains more than 75,000 items, from candles to toys to candy to housewares.
Marilla Country Store: Head to Marilla to experience this 1851 store. There are two stories of goods to peruse, with such offerings as home decor, toys, and flowers. Not to mention the small museum!
Can I go for a train ride in New York?
All aboard! If hiking in New York isn't your thing, check out these train rides in New York:
Catskill Mountain Railroad: Located in Kingston, this train has been dazzling passengers since 1982. They are open all year, with various seasonal rides, like the Fall Foliage Train or Ice Cream Sundays.
Cooperstown & Charlotte Valley Railroad: This train runs seasonally, with such offers like the Santa Claus Express and Train Robbery. All while taking in the scenery of the gorgeous Susquehanna River Valley.