The Legends Of The Bottomless Lakes In New Mexico May Send Chills Down Your Spine
Is it possible for a lake to be truly bottomless? That's the question many visitors at Bottomless Lakes State Park in New Mexico ask, inspired by the supposedly bottomless lakes of the park's namesake. This state park, located approximately 14 miles southeast of Roswell, is a favorite destination for individuals of all ages and the oldest state park in the Land of Enchantment. From swimming and scuba diving to hiking and camping, it is an outdoor lover's paradise. It's definitely a beautiful place to visit, and there's plenty of fun to be had out on the water. However, it is also one place in New Mexico with a long list of legends — each more terrifying and bizarre than the next.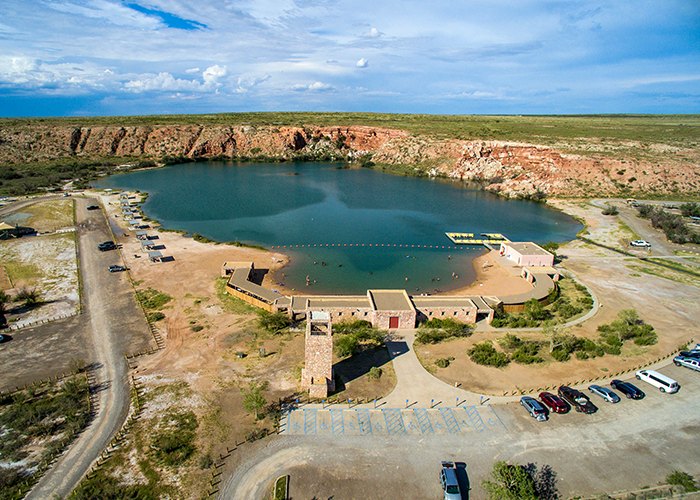 What do you think? Do you believe any of these legends of Bottomless Lakes State Park in New Mexico? Have you heard of any others? We'd love for you to reach out and share your thoughts!
To learn even more about this state park in the Land of Enchantment, check out our previous article on Bottomless Lakes State Park. And visit our article about Najavo Lake's underwater towns for more fascinating stories about the deepest lakes in New Mexico.
OnlyInYourState may earn compensation through affiliate links in this article.
Address: Bottomless Lakes, New Mexico 88203, USA
Places To Visit In New Mexico
May 11, 2022
How deep are the Bottomless Lakes in New Mexico?
New Mexico's so-called Bottomless Lakes are really sinkholes ranging from 17 to 90 feet deep.
What are some other interesting places in New Mexico?
There's no shortage of unique places in New Mexico to explore. After all, this is the Land of Enchantment. For natural wonders, try these:
The Carlsbad Caverns
White Sands National Park
The Ah-Shi-Sle-Pah Wilderness Study Area
The Capulin Volcano
Shiprock
Rio Grande Gorge.
Visit our guide to even more natural wonders in New Mexico.
Man-made New Mexico wonders include:
The House of Eternal Return in Santa Fe – a 20,000-square-foot former bowling alley that now hosts a unique art experience, complete with a non-linear narrative that visitors can piece together as they explore the house.
The Dwan Light Sanctuary at the United World College campus in Las Vegas, New Mexico, for an equally artistic but more peaceful experience.
What are some more of New Mexico's legends?
New Mexico legends range from your classic ghost stories to the famous Roswell UFO incident, to sightings of nationally known cryptids like Bigfoot. But there are some that are a bit more unique to the region:
The "Taos Hum": a low-frequency droning noise that, according to one study, can be heard by around two percent of the population in Taos, for unknown reasons. People have claimed that the sound is from the singing waters of the El Salto mountain peak, underground UFO bases, secret military experiments, and more.
Legendary local creatures such as the thunderbird, a legendary creature in certain indigenous cultures. This giant bird was said to create thunder and lightning just by flapping its wings and flashing its eyes. There were, in fact, giant birds called teratorns which flew over New Mexico in prehistoric times, and in 2007 one resident claimed to have seen similarly sized birds in the New Mexico mountains.
OnlyInYourState may earn compensation through affiliate links in this article.
Address: Bottomless Lakes, New Mexico 88203, USA