This Creepy Ghost Town In Nevada Is The Stuff Nightmares Are Made Of
Nevada is well known for its many ghost towns, which are mostly former mining boomtowns that were abandoned when the mines closed. Many of the ghost towns include buildings of disrepair and abandonment, while others no longer have any buildings. Some of the ghost towns have zero residents, while others have full-time residents—though not many. These type of ghost towns are considered "semi ghost towns." One of the most popular semi ghost towns in Nevada is Goldfield, which is also one of the most haunted.
During the first decade of the 20th century, Goldfield was a boomtown due to the discovery of gold in 1902. The town's mines produced more than $86 million worth of gold during its early mining days, and at one time, Goldfield was Nevada's largest town. In 1923, most of this historic town was destroyed by a fire. Fortunately, many of the buildings survived the fire and remain standing today, including the haunted Goldfield Hotel.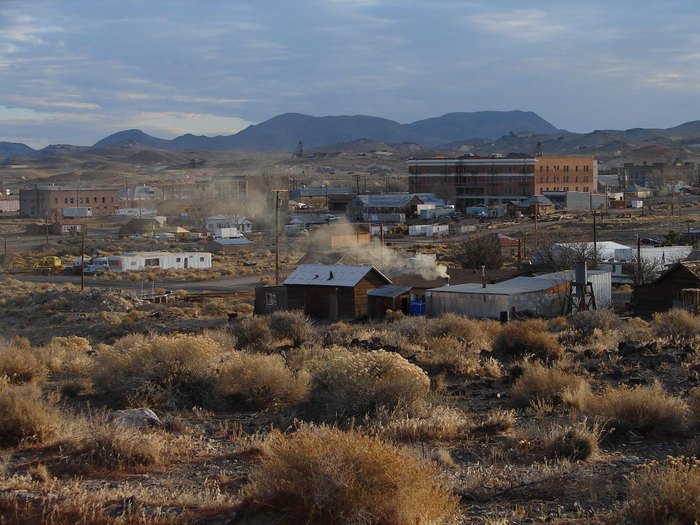 So, what exactly is it that makes Goldfield Hotel (pictured above) haunted? Well, according to legend, room 109 is haunted by a pregnant prostitute named Elizabeth. Supposedly, she was chained to the radiator by George Winfield, the hotel's original owner. He didn't want anyone to know he had gotten her pregnant and was afraid she'd tell, ruining his reputation. After giving birth, Elizabeth was left to die in the room and her newborn was disposed of by being thrown down the mine shaft, which the hotel was built over. Since that incident, many people have reported seeing her in room 109. They've also felt her presence. Several people have even heard loud cries from a baby. Elizabeth may be a well-known ghost at the hotel, but she's not the only one. Ghosts of small children playing on the lobby staircase have been reported, in addition to a ghost that randomly stabs hotel visitors. Even the ghost of George Winfield has been seen.
Built in 1907, Goldfield High School (pictured above) was abandoned in 1953 and has been standing empty ever since. Just like Goldfield Hotel, this historic high school is also haunted. According to reports, the spirit of a young girl resides at the school.
Here are a couple of interior shots of Goldfield High School:
If ghosts really interest you, here's a short video about the haunted Goldfield Hotel and its ghostly guests:
Who would've thought a small town like Goldfield would be as haunted as it is? Certainly not me!
OnlyInYourState may earn compensation through affiliate links in this article.