Most People Don't Know The Intriguing Story Behind This Modern Day Nevada Ghost Town
Near the small town of Wells in Elko County is one of Nevada's most intriguing ghost towns—one that has absolutely no ties to the state's mining history. The modern day Nevada ghost town of Metropolis was the project of Massachusetts businessman Harry L. Pierce who sought to make Metropolis the center of a new, huge farming district. In 1910, Pierce's New York-based Pacific Reclamation Company purchased 40,000 acres below Emigrant Canyon and contracted to have a dam constructed on Bishop Creek with the hopes of using the reservoir to irrigate the town. However, water usage rights disputes caused nearby Lovelock to file a law suit. Consequently, farming difficulties and a host of natural disasters eventually destroyed the short-lived town.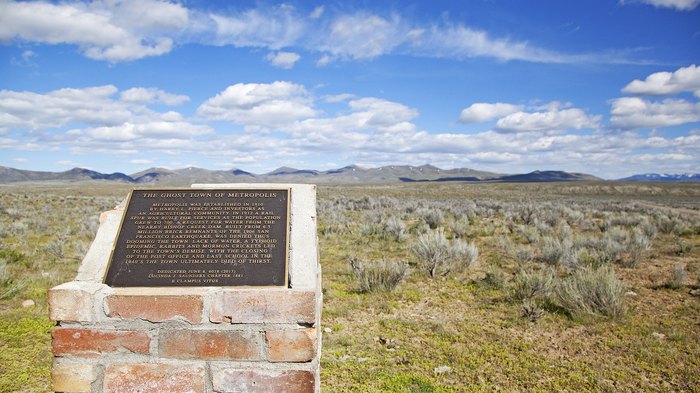 Eventually, marauding coyotes and a rise in the jackrabbit population was followed by drought, typhoid, and hordes of crickets set Metropolis on its doomed path. Pacific Reclamation declared bankruptcy in 1920. By 1922, the railroad had discontinued service to the area. By 1924, the population dwindled to 200, fires overtook the hotel and amusement hall, and the last store closed in 1925. Then, the post office closed in 1942. By 1950, Metropolis had become a modern day Nevada ghost town.
Eighty years past its prime but still more modern than most of Nevada's mining-era ghost towns, Metropolis continues to fascinate. Have you visited this unique modern day Nevada ghost town? Please share your comments below.
OnlyInYourState may earn compensation through affiliate links in this article.