This Haunting Road Trip Through Nebraska Ghost Towns Is One You Won't Forget
Ghost towns dot the landscape in Nebraska like the random spots on a Dalmatian. From the badlands to the lowlands and even just outside some of the bigger cities, through the years entire towns have dried up and disappeared from the Cornhusker State.
We've rounded up six of those towns and wrapped them up neatly in a planned road trip of Nebraska ghost towns you'll find hauntingly unforgettable. The locations are plotted on this Google Map you can easily bookmark and later access to get directions on your phone or print out a full itinerary to take with you. As plotted, this trip is just over 12 hours of drive time. You may want to split it up into two days so you can spend as much time at each location as you want.
Considered one of the most creepy road trips in Nebraska, this is one trip you can't miss. Let's get started…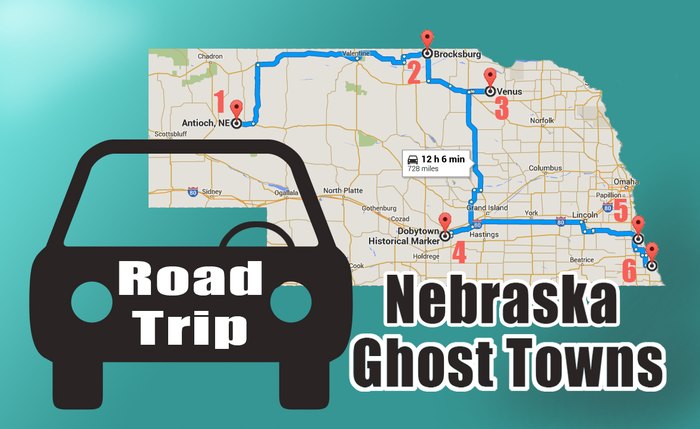 This ghost town road trip should be a real blast. Do you agree that this is one of the most creepy road trips in Nebraska? If we left out any ghost towns you'd like to see in a "Part Two" in this ghost towns road trip series, feel free to add them in our comments. We'd love to know.
If you love scary road trips then you should read Here's The Ultimate Terrifying Nebraska Roadtrip and I'll Haunt Your Dreams.
OnlyInYourState may earn compensation through affiliate links in this article. As an Amazon Associate, we earn from qualifying purchases.
More to Explore
creepy road trips in Nebraska
What are the best road trips to take in Nebraska?
So now that you've completed one of the most creepy road trips in Nebraska, you might be curious to keep exploring the state. And who could blame you!? The Cornhusker State is filled with so many natural wonders, delicious restaurants, and little-known gems that one of the best ways to discover it all is by hitting the road. For those with an interest in the natural landscape, we've outlined a natural wonders road trip through Nebraska. This itinerary will take you to breathtaking destinations such as Smith Falls State Park, Fort Niobrara National Wildlife Refuge, Snake River Falls, Pine Ridge, Toadstool Geological Park, and Scotts Bluff National Monument. Have we piqued your interest? If so, you can check out the full itinerary by clicking here.
What are the most haunted places in Nebraska?
For fans of horror movies, paranormal investigations, and scary campfire stories, Nebraska will not disappoint. The state is brimming with spooky sites, disturbing histories, and all kinds of legends that are bound to keep you up at night. One prime example is the Alliance Theater, which was built in 1903. Employees of this theater frequently report hearing disembodied footsteps in the hallway and even spotting shadowy figures out of the corner of their eyes. Talk about creepy! For more apparitions, you might consider visiting Antelope Park, which is known for hosting all kinds of ghostly figures that seem to disappear into the woods. Some other destinations that belong on your haunted itinerary include Fort Sidney Museum, Hastings College, Hummel Park, Logan Creek Bridge, Neville Center for the Performing Arts, Platte County Historical Society and Museum, Plumer Street House, and Seven Sisters Road. We've got all the details here.
Related Articles
Featured Addresses

Brocksburg, Mills, NE 68759, USA

Venus, Walnut Grove, NE 68764, USA

Minersville, Otoe, NE 68410, USA

St. Deroin Schoolhouse, Unnamed Road, Falls City, NE 68355, USA