Take This Unforgettable Road Trip To Experience Some Of Missouri's Most Impressive Caves And Waterfalls
We all love a good road trip. Rolling down the windows. Turning up our favorite music. Enjoying the open road, which is particularly perfect when there aren't many others out driving. Have you ever wondered, "where are there waterfalls near me?" The following road trip pairs two breathtaking natural wonders – caves and waterfalls. It will take you to a variety of Missouri caves and waterfalls, which happen to be some of the most impressive natural wonders in the state. If you love the outdoors, you're going to want to add this road trip to your bucket list.
You can find the directions from Google Maps, which you can easily customize to meet your interests and needs.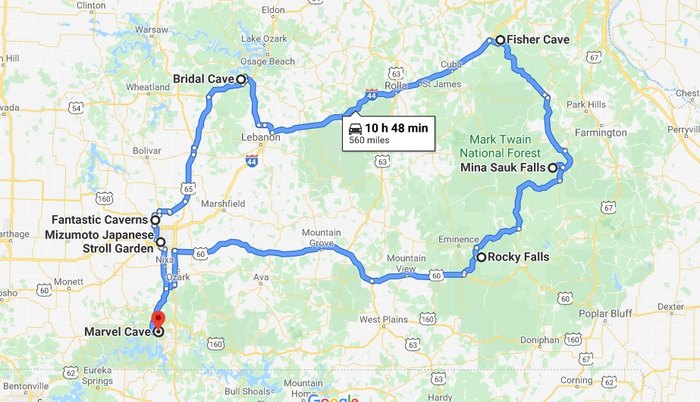 Have you ever been to any of these Missouri caves and waterfalls? If so, what did you think about them? Please feel free to share your thoughts with us in the comments below. Also, what other Missouri caves and waterfalls would you add to this road trip? Let us know in the comments below.
For another fun adventure, embark on the winery and waterfalls road trip in Missouri. You're going to love it!
OnlyInYourState may earn compensation through affiliate links in this article. As an Amazon Associate, we earn from qualifying purchases.
More to Explore
Nature Road Trips In Missouri + Related Info
What are the best road trips in Missouri?
One of the best ways to get to know and appreciate the beautiful state of Missouri is to embark on a road trip. Fortunately, there are many types of road trips in Missouri. A few of these road trip destinations can be seen below.
If you're a fan of the paranormal, you'll want to visit the following three haunted spots in Missouri:
Vaile Mansion
Hotel Bothwell
Missouri State Penitentiary
To experience three of the most beautiful natural wonders, including caves in Missouri and waterfalls in Missouri, you'll want to embark on a road trip to the following places:
Marvel Cave
Grand Gulf State Park
Rocky Falls
And finally, if you're a fan of chasing waterfalls, you'll want to embark on a road trip to the following four waterfalls in Missouri:
Hickory Canyons Waterfall
Mina Sauk Falls
Rocky Falls
Grand Falls
Are there any hiking trails with waterfalls in Missouri?
Very little compares to a scenic hike, except maybe a trail that leads to a beautiful waterfall. There are quite a few waterfall hikes in Missouri that you'll definitely want to check out. Follow both the Eastern Trail and the Western Trail, both clocking in at just a mile, at Hickory Canyons Natural Area. Both of these trails lead to a gorgeous waterfall. Your best bet is to hike the trail after a rainfall because the waterfall will be particularly powerful. Did you know that Mina Sauk Falls, at 132 feet, is the tallest waterfall in Missouri? Yep, and you'll definitely want to see it. It sits along a three-mile trail of the same name. If you don't feel like following the entire trail, you can just hike to the waterfall and then turn around.
Related Articles
Explore Missouri