Spend The Day Exploring Mississippi's Tallest Falls On This Wonderful Waterfall Road Trip
We've all heard the expression, "Go big or go home!" And if that's how you live your life, the following waterfall road trip in Mississippi, which leads to the state's biggest waterfalls, is definitely for you! The road trip's route is already mapped out for you. So, all you have to do is gas up the car, grab some snacks, and hit the road. Read on for all the details.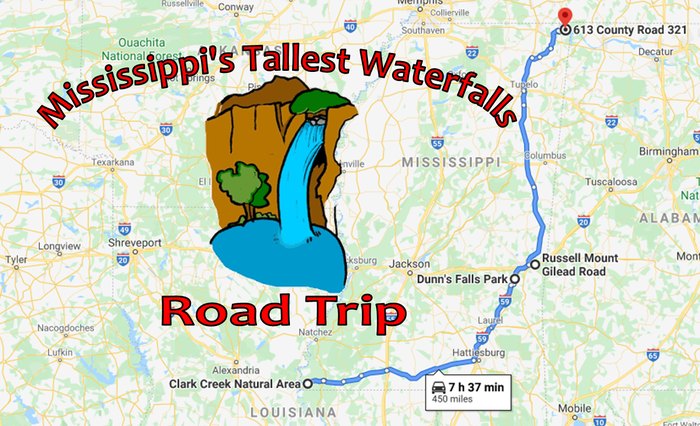 So, did you already know about these waterfalls in Mississippi? Have you ever visited any of the Mississippi waterfalls mentioned above? If so, please share your experience(s) with us in the comments below.
These aren't the only waterfalls in Mississippi. In fact, there's even a secret Mississippi waterfall that most people don't know about!
OnlyInYourState may earn compensation through affiliate links in this article.
More to Explore
Mississippi Waterfalls + Related Info
What are three hidden waterfalls in Mississippi that belong on everyone's bucket list?
Several waterfalls are located throughout Mississippi. The following list includes three hidden waterfalls that everyone should include on their bucket list. Each one of them is definitely worth discovering.
1. Scutchalo Falls
Situated between Carpenter and Carlisle, Scutchalo Falls is a beautiful waterfall that's located on an unknown tributary of Scutchalo Creek. This waterfall flows straight into a stunning emerald pool of water below.
2. Dunn's Falls
At 65 feet high, Dunn's Falls is the tallest waterfall in Mississippi. People travel from near and far to get a close-up view of this natural wonder.
3. Tishomingo State Park Waterfalls
In Mississippi's Tishomingo State Park, there are several small waterfalls scattered throughout. These waterfalls are one of the main reasons Tishomingo State Park is Mississippi's most popular state park. Everyone who visits this park loves discovering its waterfalls.
What's one of the best waterfall hikes in Mississippi?
As previously mentioned, there are several trails in Mississippi that lead to waterfalls. One of the best waterfall hikes in Mississippi is located within the Clark Creek Natural Area in Woodville. At nearly two miles long, the improved trail within this natural area is easy to navigate by hikers of all ages. What makes this trail such a great one to hike is all of the beautiful natural scenery that surrounds it, including some stunning waterfalls. In fact, this trail will take hikers to five waterfalls. When it comes to height, most of the waterfalls in the Clark Creek Natural Area measure from 10 feet to more than 30 feet. Many of the waterfalls are also seasonal. However, some do flow year round.
Related Articles
Explore Mississippi