Crossing This Haunted Mississippi Bridge Will Give You Nightmares
Hauntings in Mississippi are most commonly associated with antebellum homes and historic graveyards, but don't think the state's paranormal happenings end there. Haunted roadways and bridges can be found throughout the state. This is the story of Lauderdale County's Stuckey's Bridge.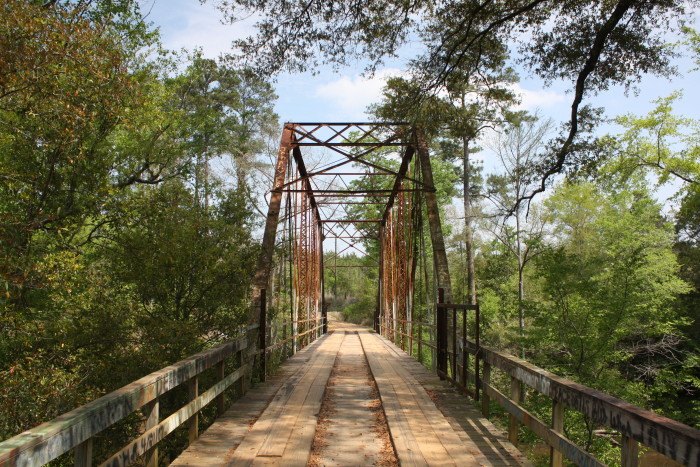 Even though the infamous bridge is now closed to traffic, it still attracts visitors hoping to see Stuckey for themselves.
So, have you been to Stuckey's Bridge and witnessed any paranormal happenings? If so, share your experience with us in the comments section below. Also, if you would like to read about more ghost adventures, here's an article about some haunted places in Mississippi where you can actually spend the night. 
Address: Stuckey's Bridge, Chunky River Watershed 47 Dam, Union, MS 39365, USA
Stuckey's Bridge
September 09, 2022
Besides Stuckey's Bridge, what are some other haunted bridges in Mississippi?
By far, the story behind Stuckey's Bridge is one of the most bone-chilling tales in Mississippi. And while there aren't many other haunted bridges in the state, there is one that has an equally terrifying reputation. And that is Burnt Bridge. Thankfully, this bridge is no longer standing, but its haunting story still lives on today. However, the street (Burnt Bridge Road), leading up to where the bridge once stood is considered to be haunted by locals. According to some folks, there was a young lady who died in a terrible car crash on her way to prom. The car caught on fire with the young lady and her prom date, and it burned down the bridge. The locals believe that this young lady can be seen in the area in her prom dress. Apparently, she is missing her head, and she rides on top of passing vehicles in search of her missing body part as well as her date. This tale of the headless prom girl is so creepy that some locals avoid driving down this road at night. And here's an article with more information about this haunted Mississippi bridge and street. 
What is the most haunted place in Mississippi?
When it comes to haunted places, Mississippi has no shortage of them. Among the most haunted are usually old historic buildings and homes. One house that is considered the most haunted in the state is McRaven House located in Vicksburg, Mississippi. In fact, it is ranked in the top five of the most haunted houses in the country. Additionally, it has been featured in various specials and TV shows for its haunting tale. There have been several deaths and murders inside the house. And in 1863, it served as a hospital and campsite during the Civil War. So, there are endless souls that haunt this mansion including Civil War soldiers, Native Americans, and past owners who lost their lives on the property. If you would like to read more about this frightening mansion, here's an article that gives a detailed account of the horrific events that happened at the most haunted place in Mississippi. 
Address: Stuckey's Bridge, Chunky River Watershed 47 Dam, Union, MS 39365, USA