The Remnants Of This Abandoned Church In Detroit Are Hauntingly Beautiful
It's no secret that Detroit is home to its fair share of abandoned properties. Throughout the generations, our beloved city has struggled through numerous challenges, both financially and otherwise – and these difficulties have forced the closure of many unique, beautiful buildings. One abandoned church in Detroit remains hauntingly beautiful despite its state of disrepair. Take a look inside St. Agnes Church in Detroit by checking out the photos below from urban explorers, but bear in mind that we certainly do not recommend trespassing to get an in-person glimpse.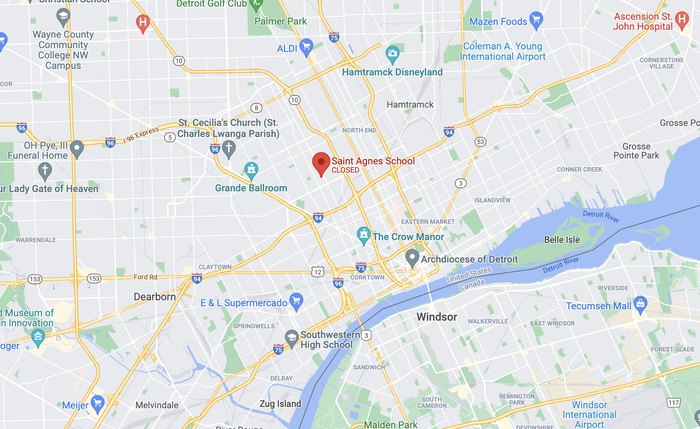 Did you or your loved ones spend time at St. Agnes Church prior to its closure? What are some of your best memories of this once-popular church and school in Motor City? Share your thoughts with us in the comments or tell us about another abandoned church in Detroit that we should be aware of by filling out our nomination form.
If you're eager to explore some of the area's still-active attractions, follow this lighthouse road trip through Detroit. Hop in the car or pack up the RV (even if you don't have an RV you can rent one from RVShare) and go on an adventure.
OnlyInYourState may earn compensation through affiliate links in this article.
More to Explore
More abandoned places in Detroit
What are some abandoned places near Detroit?
From abandoned automobile manufacturing plants to churches, there are some amazing old structures slowly fading away in Detroit. These once grand buildings, some dating back to the 1800s, have been abandoned and left to the ravages of time. Here are a few of these abandoned places in Detroit for you to enjoy:
Packard Automotive Plant: The Packard Automotive plant in Detroit oped in 1903. At the time it was considered a modern innovation of the automotive industry. Now, it has long since been abandoned and is scheduled for demolition.
Belle Isle Zoo: This seemingly ancient jungle has sat abandoned for the past 20-plus years. It originally opened in 1895 and was a thriving sanctuary for about 150 different animals until it closed in 2002.
Fisher Body Plant 21: Another abandoned automobile plant in Detroit, this one was opened in 1919 and was run until 1984. There are plans to renovate the space to be used for a housing and retail complex.
Vanity Ballroom: If you listen closely you can still hear faint music roaring through this abandoned ballroom from the 1930s. Once the place to go for nightly entertainment, it is now an eerie shell of its former glory.
Woodward Avenue Presbyterian Church: Like the St. Agnus Church, this was once a beautiful grand building filled with light and sound when it was built in 1911. Even today you can still imagine what it once looked like inside, but it is slowly crumbling around the edges.
House on Eliot St: Once a magnificent mansion the house on House on Eliot St. near Brush St. in Detroit is falling in on itself. It looks like a haunted mansion you'd visit around Halloween - it quite possibly has its own ghostly stories to tell.
Read more about these abandoned places in Detroit and the fascinating Detroit history that they represent.
Related Articles
Featured Addresses

St. Agnes Church, Rosa Parks Blvd & S La Salle Gardens, Detroit, MI 48206, USA