10 Staggering Photos Of An Abandoned High School That Once Stood In Detroit
Throughout the years, Detroit has found itself at the forefront of seemingly endless judgment and controversy. Social issues, financial unrest, and downright corruption have emerged here in our beloved Motor City, often leading to the shuttering of businesses and other establishments, leaving many abandoned places in Detroit. While those who call Detroit home understand that the realities of Detroit's challenges are more complicated than outsiders assume, there's something eerily fascinating about examining some of our city's now-defunct spaces. The abandoned Redford High School in Detroit was photographed prior to its demolition, and those who choose to embrace both the highs and lows of Motown's history will find the images thought-provoking.
Redford High School, which first opened its doors on Grand River Avenue in the fall of 1921, operated within Detroit Public Schools until it was closed by the district in 2007. During its heyday, the school offered an assortment of unique classes and housed a vibrant community of students and staff alike. Between 2007 and 2012, the abandoned high school building gradually fell into disrepair. Following its demolition in 2012, the former Redford High School site was converted into the home of a Meijer store, which stands today.
Prior to its ultimate demise and demolition, though, the empty school grounds were a fascinating destination for urban explorers and abandoned building photographers. Here are 10 photographs by Thomas Hawk that capture the sad yet intriguing ruins of Redford High School.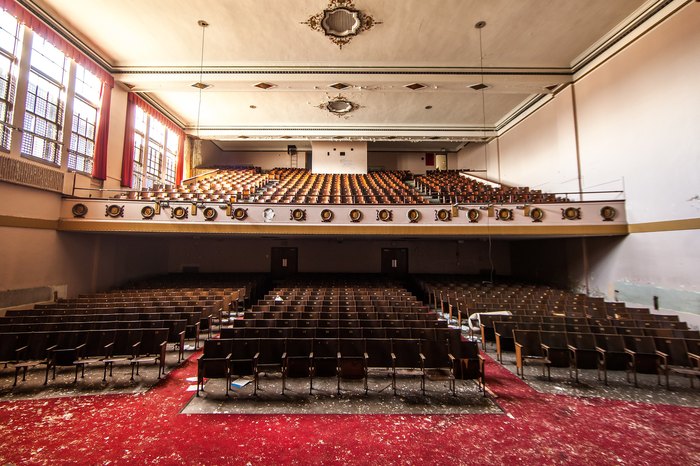 Take a look inside this abandoned school:
So, there you have it: 10 incredible photos of an abandoned Detroit high school. Did you or one of your loved ones attend Redford High School in Detroit? How do these images make you feel? We'd love to hear your memories and thoughts, so drop us a line in the comments. Or, if you'd like to recommend another topic for future consideration, complete our nomination form. 
Are you absolutely fascinated by images of empty spaces? If so, read about this incredible abandoned church in Detroit. Detroit is a city that is rich in history. Take a trip there soon and see some of it up close.
OnlyInYourState may earn compensation through affiliate links in this article.
More to Explore
More abandoned places in Detroit
Where are there some abandoned places in Detroit?
Abandoned places in Detroit include:
Whether it's due to a tragic event or simply the passing of time some of our most historic buildings are just left to crumble to dust. Such is the case with these abandoned places in Detroit.
Related Articles
Featured Addresses

Redford High School, 21431 Grand River Ave, Detroit, MI 48219, USA