These 9 Haunted Hotels In Massachusetts Will Make Your Stay A Nightmare
Most people would argue that staying the night in a hotel should be a relaxing experience. However, more than a few hotels in the Bay State offer rooms complete with guests that never checked out. For those of us who are looking for something a bit spooky for an overnight stay, these haunted hotels in Massachusetts are sure to please. Just be careful — these spooky spots aren't for the faint of heart!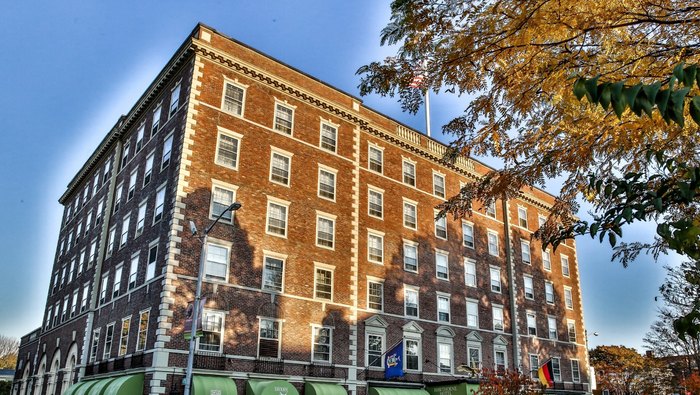 Have you ever stayed in a haunted hotel in Massachusetts? Share your stories in the comments and check out our list of the spookiest places in Massachusetts.
Address: Lizzie Borden House (A Bed and Breakfast & Museum), 230 2nd St, Fall River, MA 02721, USA
Address: Concord's Colonial Inn, 48 Monument Square, Concord, MA 01742, USA
Address: Hawthorne Hotel, 18 Washington Square W, Salem, MA 01970, USA
Address: Longfellow's Wayside Inn, 72 Wayside Inn Rd, Sudbury, MA 01776, USA
Address: Omni Parker House, 60 School St, Boston, MA 02108, USA
Address: The Salem Inn, 7 Summer St, Salem, MA 01970, USA
Address: Crowne Plaza Hotels & Resorts Asheville, an IHG Hotel, 1 Resort Dr, Asheville, NC 28806, USA
Address: Seven Hills Inn, 40 Plunkett St, Lenox, MA 01240, USA
haunted hotels in Massachusetts
August 25, 2022
What are some of the most haunted places in Massachusetts?
Massachusetts is full of paranormal activity. From haunted bridges, campsites, and even trails, there's simply no shortage of ways to be spooked in the Bay State. If you're curious to explore the most haunted places in Massachusetts, we have just the adventure in mind: a haunted Massachusetts road trip! We've compiled a list of the state's most terrifying spots and have mapped them out in a convenient route. One of the stops on the road trip is the Hoosac Tunnel. The tunnel is nicknamed "The Bloody Pit" due to the terrible deaths that have been suffered here, many of which were from a horrible construction project accident. Some other destinations on this road trip include the Belchertown State School, Spider Gates Cemetery in Leicester, and Freetown Fall River State Forest.
What's the most famous hotel in Massachusetts?
Massachusetts is famous for its historic hotels, many of which are rumored to be haunted. One of the most famous hotels in Massachusetts is known as the Omni Parker House. In fact, it's considered "America's Longest Continuously Operated Hotel." How impressive is that?
What's the oldest building in Massachusetts?
Massachusetts has countless historic buildings, and among the most impressive is the Fairbanks House. It was built in 1637 and isn't just the oldest building in Massachusetts, it's the oldest wooden structure in North America! This fascinating building was constructed for Jonathan and Grace Fairbanks and their children. Today, the building operates as a museum where you can learn about the building's history.
Address: Lizzie Borden House (A Bed and Breakfast & Museum), 230 2nd St, Fall River, MA 02721, USA
Address: Concord's Colonial Inn, 48 Monument Square, Concord, MA 01742, USA
Address: Hawthorne Hotel, 18 Washington Square W, Salem, MA 01970, USA
Address: Longfellow's Wayside Inn, 72 Wayside Inn Rd, Sudbury, MA 01776, USA
Address: Omni Parker House, 60 School St, Boston, MA 02108, USA
Address: The Salem Inn, 7 Summer St, Salem, MA 01970, USA
Address: Crowne Plaza Hotels & Resorts Asheville, an IHG Hotel, 1 Resort Dr, Asheville, NC 28806, USA
Address: Seven Hills Inn, 40 Plunkett St, Lenox, MA 01240, USA