This Haunted Road Trip Will Lead You To The Scariest Places In Massachusetts
What better way to get in the spooky spirit than with a road trip to the most haunted places in Massachusetts? We've gathered some of the scariest, creepiest locales in the state and organized them into a journey that is sure to make you shiver.
You can find directions and a map of the trip below. The total journey comes out to about 8.5 hours, but you'll want to budget some time to actually get out of your car and explore these spots.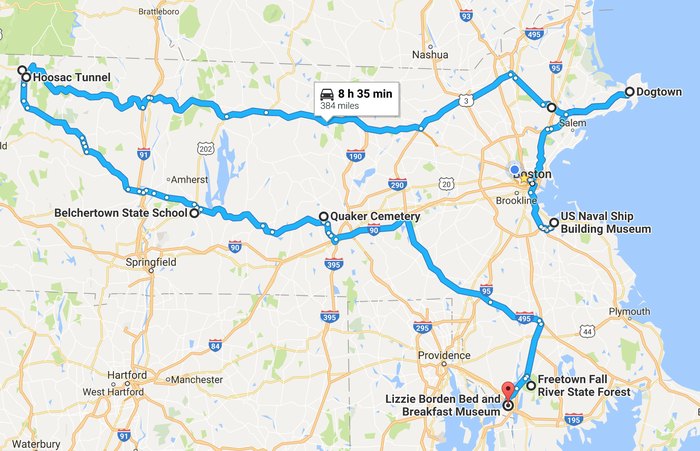 Have you visited any of the most haunted places in Massachusetts? If driving all over the state doesn't sound like your style, check out this terrifying Massachusetts haunted train ride.
OnlyInYourState may earn compensation through affiliate links in this article.
Most Haunted Places In Massachusetts
August 22, 2019
What is the most famous ghost story from Massachusetts?
There's no shortage of spooky ghosts in Massachusetts. One of the most famous stories involves Mrs. Melanie Lanier. During the Civil War, this brave woman ventured to Fort Warren in order to rescue her husband who was being held hostage. She weaved her way into the prison and nearly succeeded in her mission. At the last moment, however, she was caught by Union soldiers. Melanie Lanier shot at one of the guards, but the weapon backfired in her hand. The gun burst into pieces and a shard lodged itself into her husband's head, killing him on the spot. Melanie Lanier was later hanged as a traitor on George's Island in 1862. To this day, people have reported seeing her aimlessly wandering around the fort in her black execution robe. 
What is the most haunted town in Massachusetts?
Salem, famous for its macabre witch trials, is the most haunted town in Massachusetts. In 1692, hundreds of people were accused of witchcraft and hanged in the town square. Today, visitors flock to this area in search of the paranormal. Numerous spectral visions have appeared along The Old Burying Point Cemetery, and people have also reported strange activity at The Salem Hospital, Salem Jail, and Salem State College.
What is the creepiest abandoned place in Massachusetts?
The Plymouth County Hospital, located in Hanson, is one of the most bone-chilling abandoned places in Massachusetts. This once sturdy building was constructed in 1916 as a tuberculosis hospital. It shuttered in 1992, and has stood vacant ever since. Trespassing is prohibited, and the city warns that the floors could give out at any moment.