Everyone In Maryland Should See What's Inside The Walls Of This Abandoned Fort
Maryland is ripe with abandoned places but did you know that an abandoned fort can be found in the middle of a river?
You may have spotted Fort Carroll from the Francis Scott Key Bridge and many passersby wonder what this hexagonal structure is. It was originally a fort, built in 1847. Once the fort was no longer deemed necessary as a defense spot for Baltimore, it was left abandoned. Today, its only inhabitants are migratory birds and overgrown plant life.
Youtube user Pat Gavin took a kayak trip to the abandoned Fort Carroll near Baltimore, Maryland, and captured some amazing images. Check them out below and then watch the following video for even more spectacular and eerie footage.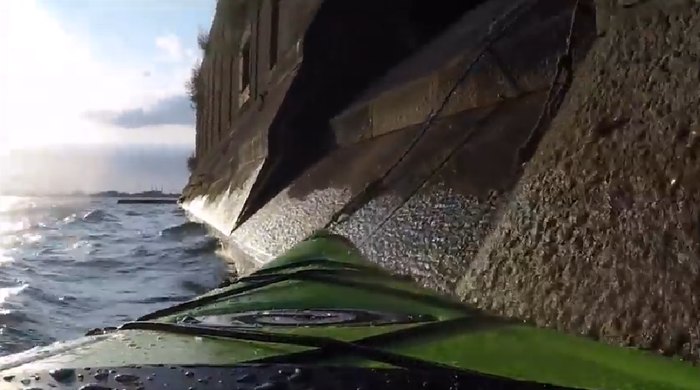 For more views and footage of Fort Carroll, an abandoned fort in Maryland, check out the below video.
Abandoned places can be fascinating because they show us a slice of history. What are your thoughts on this abandoned fort in Maryland? Have you visited before? If so, be sure to share your experiences with us in the comments – we'd love to hear from you!
Are you fascinated by abandoned places like Fort Carroll in Maryland? Then check out 10 more places around Maryland that nature is reclaiming.
Address: Fort Carol, Edgemere, MD 21219, USA
OnlyInYourState may earn compensation through affiliate links in this article.
abandoned fort in Maryland
November 22, 2021
Does Maryland have any ghost towns?
Maryland is a historic state, and it stands to reason that some towns established long ago are no longer thriving today. In fact, there are a handful of ghost towns that have been completely forgotten throughout the years. One prime example of an abandoned ghost town in Maryland is that of Daniels. Tucked away deep in the woods of what is now Patapsco Valley State Park, this town was once a thriving site of a textile mill. Unfortunately, in the 1960s, the business had run its course and nearly 100 families were told that they would need to relocate. Today, all that remains of the once-thriving town are a few ruins. It's possible to see the site of the former town of Daniels if you take the Alberton Rocks Trailhead in Windsor Mill. This dirt path will meander along the scenic Patapsco River before reaching the foundations of some of the town's former buildings. Perhaps the most interesting ruin of all is that of an old church. Curious to learn more about this Maryland ghost town? Check out our previous article: The Awesome Hike In Maryland That Will Take You Straight To An Abandoned Town.
Where can I go to see ruins in Maryland?
When you think about ruins, you likely have visions of ancient civilizations. And yet there are ruins to be discovered here in Maryland, too, and they're not necessarily ancient. One prime destination is known of Savage Mill, a former cotton mill that was transformed into a shopping complex. Visit today, and you'll discover some fascinating historic structures that date back to the 1800s. One of the most fascinating landmarks is the Bollman Iron Truss Bridge, built in 1869. It's one of the oldest iron railroad bridges in America, and definitely worth learning more about. Learn more about these fascinating abandoned ruins in Maryland.
Address: Fort Carol, Edgemere, MD 21219, USA
OnlyInYourState may earn compensation through affiliate links in this article.