Take This Road Trip To The 6 Most Eye-Popping Lupine Fields In Maine
When you spend the year in Maine, summer is always a welcome relief. Winter can be fun but, after a while, the cold temperatures can start to get to a person. That's why any sign of warmer weather and beach days on the horizon makes our hearts flutter. Once we have strung together a few warm days, and it's clear that spring is here, everything begins feeling a little bit brighter. There's nothing like nature in Maine, and once the flowers, trees, birds, and other wildlife start coming out, there's nothing more wonderful than going out and exploring it.
One more sign that summer is here is when we drive through the state and see lupines along the road. These flowers are easy to find, but they are magnificent when they appear in large quantities. This road trip, inspired by Inns Along the Coast, will take you to a few spots to see lupine fields in Maine that we think you'll love!
Click here for directions via Google Maps and remember to buckle up, drive carefully, and never leave the snacks at home!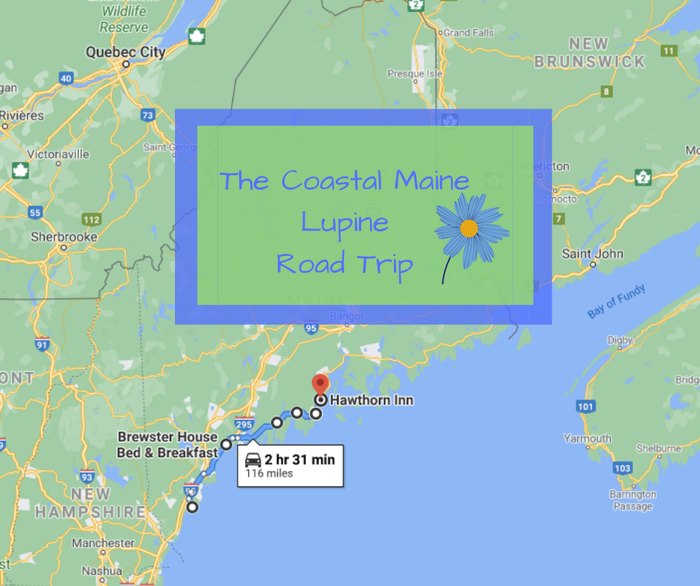 What are some of your favorite spots to see lupines or other wildflowers in Maine? Be sure to let us know in the comments so we can check them out, too! And if you love a good journey through the state as much as we do, consider one of the others we've put together. Here are the best road trips you can take in Maine. This list comes with a description, directions, and lots of fun!
OnlyInYourState may earn compensation through affiliate links in this article.
Lupine Fields in Maine
June 06, 2022
What's the most beautiful hike in Maine?
If you are looking for the most beautiful hike in Maine, look no further than Moxie Falls Trail in West Forks, Maine. Moxie Falls Trail clocks in at just over 2 miles (2.1 to be exact), and is relatively flat, making it an easy and fun hike for any time of day. Along the way, you'll pass over wooden bridges and boardwalks, rivers, and of course, Moxie Falls, Maine's tallest waterfall! Your view of Moxie Falls will be absolutely incredible from the top of the stairs, whatever the time of year! In the spring, the waterfall pours over the cliff face surrounded by the lush green Maine forest, and in the fall, the colors turn brilliant shades of orange, green, red, and yellow, making for a breathtaking view of Maine's coolest waterfall.
What are the most well-known parks in Maine?
Quoddy Head State Park is one of the most well-known parks in Maine, and for a good reason. Found in Lubec, Maine, Quoddy Head is an absolutely breathtaking adventure no matter how many times you've visited before. Whether you want to explore the forest, beach, cliffs, or picturesque lighthouse, Quoddy Head State Park has something for you! Quoddy Head has more than just good views though, It is also the easternmost point of land in the United States, which means that it occasionally gets America's first sunrise! Can you think of a better place to watch the sunrise?
What is the scenic place to see wildflowers in Maine?
The most scenic place to see wildflowers in Maine is also the best place to pick them! At the Little River Flower Farm, you will have free reign of over 100 acres of beautiful flowers that you can collect and purchase!