Go Hiking With Goats In Maine For An Adventure Unlike Any Other
The great outdoors is one of the best things about spending a significant amount of time in Maine. No matter the season, getting outside and appreciating the nature, trees and air around you can cause a huge shift in your mental state and overall well being. And, with numerous trails and woods in which to get lost, getting close to nature isn't difficult here. In fact, most of you probably already have experience hiking with friends, hiking with family and hiking with just your own thoughts and the air around you. But, what about hiking with goats? If you haven't tried that, read on for an experience that's sure to change the way you experience the outdoors in Maine! Try this goat hike in Maine!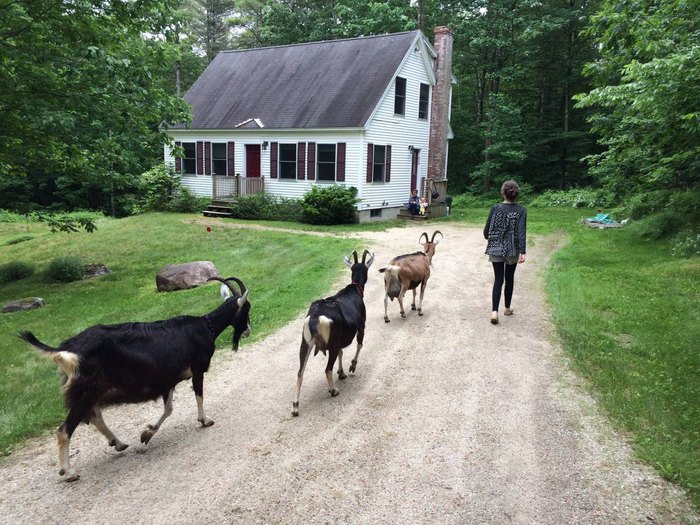 Ten Apple Farm is located at 241 Yarmouth Rd., Gray, Maine. We recommend giving them a call at (207) 657-7880 for any additional questions. Get more information and reserve your space on the Ten Apple Farm website. Or, check them out on the Ten Apple Farm  Facebook page. This goat hike in Maine costs $16.00 for adults, $12.00 for teens and seniors, and $8.00 for kids ages 5-12. Each hike has a maximum of 20 people.
Get suited up for your adventure at LL Bean!
One of our favorite things about Maine are the many state parks that exist within its borders. This (nearly) 8,000 acre state park is one of the best, and it only gets more fun in the winter!
OnlyInYourState may earn compensation through affiliate links in this article.
More to Explore
Goat Hike in Maine
What is the best goat hike in Maine?
Ten Apple Farm in Gray has received attention for its fantastic goat hikes in Maine. The farm offers guided woodland walks where guests can lead a goat on a leash or just walk alongside them. The hike is followed by some free time in the pasture to engage with the goats and then often ends with a cheese-making demo or some other educational component. The owners aim for a highly educational and enjoyable experience, often making it a hit with families and animal lovers.
Where are the best goat hikes in Maine?
"Goat hikes," where you hike alongside goats, are a niche but increasingly popular activity. They offer a unique way to engage with nature and animals simultaneously. For those looking to enjoy the great outdoors, a hike accompanied by goats offers the chance to experience Maine's beautiful forests uniquely. The hikes are generally accessible for all ages and offer different interactions with animals that many find enriching.
These are our favorite goat hikes in Maine:
Ten Apple Farm in Gray, Maine: They offer a two-hour experience on a 1.5-mile loop through woodland trails. Suitable for children aged 5 and up, the hike is educational and interactive. You'll discover various uses for goats—ranging from dairy and fiber production to land management and packing—and gain insights into goat care. The adventure concludes with a sampling of fresh goat milk and cookies.
Goat Hikes at Pumpkin Vine Valley Farm in Somerville, Maine: Go on a goat hike through agricultural fields and the edges of wooded areas, affording panoramic vistas of the farm. The trail spans a mile and can take about an hour, depending on how much time you wish to spend engaging with the goats. Led by the knowledgeable young tour guides—their own children—you'll be enriched with insights and anecdotes about life on the farm.
Saco River Farms in Steep Falls, Maine: Take a goat hike along the picturesque Saco River. This easy, flat walk takes you through a forested pathway following the river's meandering course. You won't be alone on this nature-filled journey; a knowledgeable guide will lead the way, accompanied by our adorable Nubian goat kids. Witness these playful creatures in their natural environment as they run, frolic, and engage in amusing antics.

 

Lally Broch Farm in Frankfort, Maine: Meet up with the team at Lally Broch Farm and their dairy goats for seasonal hikes on Mount Waldo. Your group, limited to six people, will take a brief drive to Mount Waldo, where you'll hike to the quarry pond. This easy-going adventure is suitable for all ages and fitness levels.
Related Articles
Explore Maine
Featured Addresses

Ten Apple Farm, 241 Yarmouth Rd, Gray, ME 04039, USA