Here Are 15 Of The Most Scenic Views In Kansas – And They're Stunning
Do you ever get a bit annoyed when you hear people bash Kansas for being so "boring" and so "flat?" It's almost certain that those same people have never actually been to Kansas because, if they have, chances are they would have fallen in love with the sheer natural beauty of the Sunflower State. Here, for example, are 15 of the most scenic views in Kansas — and they're stunning.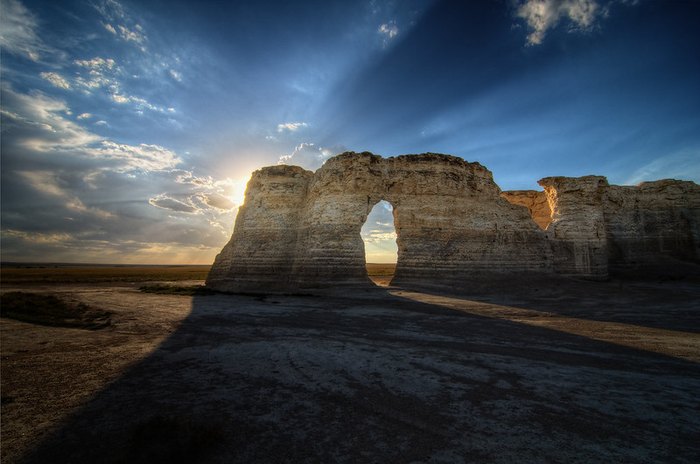 Stunning, right?!  What do you think are the most scenic views in Kansas? What would you add to the list? Let us know in the comments! Get a glimpse of more of Kansas's breathtaking beauty on the Turkey Creek Trail (it has a waterfall!) near Overland Park.
OnlyInYourState may earn compensation through affiliate links in this article.
Address: Gove 16, Oakley, KS 67748, USA
Address: First St & Main Street, Cedar Point, KS 66843, USA
Address: Mushroom Rock State Park, Ave K, Brookville, KS 67425, USA
Address: Lawrence, KS, USA
Address: Lake Scott State Park, Beaver, KS 67871, USA
Address: Cimarron National Grassland, Westola, KS 67953, USA
Address: Kansas, USA
Address: Kansas City, KS, USA
Address: Western, KS, USA
Address: Flinthills, KS, USA
Address: Cheyenne Bottoms, Cheyenne, KS 67544, USA
Address: Chase State Fishing Lake, 1461 Lake Rd, Cottonwood Falls, KS 66845, USA
Address: Tallgrass Prairie National Preserve, 2480B KS-177, Strong City, KS 66869, USA
Address: Elk Falls, KS 67345, USA
Address: Wichita, KS, USA
Most Scenic Views In Kansas
February 16, 2021
Does Kansas have any natural wonders?
Some of the most scenic places in Kansas we'll find are its many natural wonders, often the perfect day-trip destination. If you've not been to Rock City yet, make it a point to visit as soon as you can. The natural wonder is comprised of tall stone structures that were once a large rock. For simply stunning views of four states – Kansas, Iowa, Nebraska, and Missouri – head over to Four State Lookout. Don't forget your camera. Great Plains Nature Center boasts a jaw-dropping tree tunnel, perfect for sitting under with a picnic lunch or a good book.
What are the best waterfall hikes in Kansas?
If you're up for a road trip with some stops that include hiking, you can't go wrong with visiting the waterfalls in Kansas. The ultimate waterfall road trip in Kansas, for example, promises a ton of natural beauty and sensational waterfalls. The epic road trip begins at Blue Springs. You'll get an up-close look at the breathtaking Alcove Springs. Geary State Lake Waterfall boasts a 35-foot cascade as well as several other smaller waterfalls. Eureka City Lake Falls is perfect for relaxing by and just watching the water tumble. Be forewarned, however, that the waterfall might not be as powerful if it hasn't rained in a while.
Which state parks should I visit in Kansas?
Some of the most spectacular natural beauty can be found in Kansas state parks, making them an ideal destination when we're in the mood for some outdoor adventure or even a quiet hike. For a truly unique experience, spend some time at El Dorado State Park. The gorgeous state park is particularly popular with boaters and those who fish. Wilson Lake State is drenched in natural beauty – from a jaw-dropping tunnel of trees to beautiful rock formations. Tuttle Creek State Park, Cheney State Park, and Glen Elder State Park are just of the few other Kansas state parks that provide a picture-perfect backdrop for a day outdoors.