Some Of The Best Tenderloin In Indiana Can Be Found At Jonesy's Junction
If somebody asked you to name a food that's absolutely iconic in Indiana, the best tenderloin in Indiana might be the first thing that comes to mind. Of course, not to throw shade on the Hoosier state's amazingly delicious baked staple known as sugar cream pie, but the breaded tenderloin sandwiches are the best. And, as luck would have it, we just happen to have found a little hole-in-the-wall Jonesy's Junction that serves up some truly legendary breaded tenderloin. It might even be the best tenderloin in Indiana!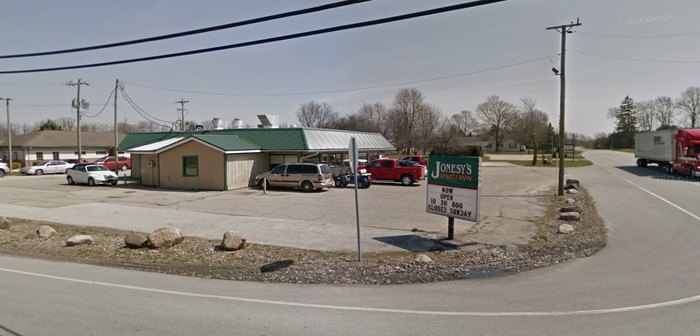 Should you ever find yourself wondering where you can find the best tenderloin in Indiana, you'll definitely want to check out Jonesy's Junction's Facebook page. It's worth the trip from wherever you are, we promise! Rave reviews can't go wrong.
OnlyInYourState may earn compensation through affiliate links in this article.
Address: 906 E Rochester St, Akron, IN 46910, USA
Some Of The Best Tenderloin In Indiana Can Be Found At Jonesy's Junction
May 05, 2023
Are there any haunted places in Indiana?
Here are seven of the most terrifying reasons to visit Indiana:
Highland Lawn Cemetery (4420 Wabash Ave., Terre Haute, Indiana), holds frightening secrets passed down through stories since 1884, such as the heart-wrenching story about a loyal bulldog named Stiffy Green who hangs out there since his owner died.
Hannah House (3801 Madison Ave., Indianapolis, Indiana), is the location of a tragic fire where afterward, the house's owner buried bodies beneath the home to hide evidence that the house was used as an Underground Railroad. It is believed that those spirits remain.
Stepp Cemetery (Morgan-Monroe Forest, Martinsville, Indiana) is where, among other ghosts, a caretaker who was reportedly killed in a horrible logging truck accident, is sometimes observed sitting on a stump seeming sad and lost.
Old Blackford County Jail (120 E. Main St., Hartford City, Indiana) held prisoners from 1879 to 1995, and some of those who died here are rumored to moan and yell telling visitors to leave.
 Whispers Estate (714 W. Warren St., Mitchell, Indiana) offers lights going off and on, and disembodied footsteps, in the spooky mansion built in 1894, centered around some tragic deaths of folks who lived inside.
Elizabethtown Cemetery (5463-5345 W. 1275 N. Road, Muncie, Indiana) sits in the middle of nowhere in a town that closed down at the beginning of the 20th century, and its spirits have attracted paranormal investigators.
 Central State Hospital (3270 Kirkbride Way, Indianapolis, Indiana) was once called the Indiana Hospital For The Insane, where people were treated inhumanely and when they died, some of the bodies were buried in mass, unmarked graves, seemingly now a haunted place by those poor peoples' spirits. Do you know of any haunted places in Indiana that aren't listed here? If so, please share them in the comments below.