The Ultimate Pie Shop Road Trip In Illinois Is As Charming As It Is Sweet
Ready for the sweetest road trip you can take? While we have curated several road trips over the years, this one takes the cake…or, shall we say, pie. Take our ultimate pie shop road trip in Illinois and satisfy your pie cravings in the best way possible.
This road trip to some of the best pie shops in Illinois clocks in at about 185 miles and will take just under 3.5 hours of drive time. You can use the interactive map we created to guide you. Ready to hit the road? Let's go!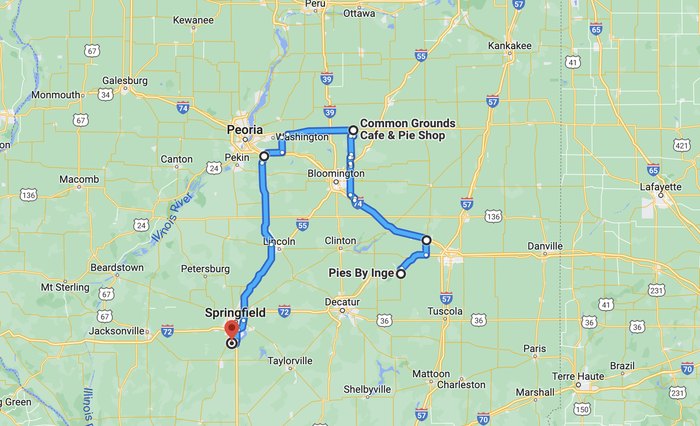 Are you ready to hit the road on the ultimate pie shop road trip in Illinois? What a sweet adventure you'll have! What is your favorite pie shop in Illinois? Tell us about it in the comments!
And if you're looking to balance out that pie with some ice cream (a la mode, friends!), this Illinois Ice Cream Trail is the sweetest trip you'll ever take… after, of course, the above pie adventure.
OnlyInYourState may earn compensation through affiliate links in this article.
More to Explore
Best Pie Shops In Illinois
What are the best diners in Illinois?
Pies and diners go hand-in-hand, don't they? If you enjoyed visiting the cozy and delicious pie shops in Illinois outlined above, wait until you check out the following IL diners:
Merry Ann's Diner. In addition to traditional comfort food classics like burgers and your favorite breakfast foods, try this overstuffed sandwich when you dine at Merry Ann's Diner.
The Junction Diner, Forest Park. A family favorite, The Junction Diner is also known for its specials like eggplant parmigiana served with yummy sweet potato fries.
Charlie Parker's Diner, Springfield. One of the most famous diners in Illinois, Charlie Parker's Diner has been around since 1992. Aside from the fun and friendly vibe, treat yourself to chicken and waffles or other comfort food when you dine here.
The Geneva Diner. You'll feel how cozy this small-town diner is when you sit down for a bite. Aside from the warm atmosphere, the massive portions at The Geneva Diner adds to this being one of the homiest diners in Illinois and is the kind of place you just want to come and hang out!
Honey Bee Cafe. You might be overwhelmed by all the choices on the menu when you dine at Honey Bee Cafe. If you struggle to decide what the order, you can always opt for their infamous pancakes... they're so good!
What's the oldest restaurant in Illinois?
There are many restaurants in Illinois that have stood the test of time, and one of our favorites is Tom's Place. Founded in 1921 by restauranteur Tom Endsley, it's one of only a couple of restaurants in the small town, but in its more than 100-year history, the family-owned restaurant has certainly made its mark! While the dining room retains its historic charm, changes like adding real flowers, tabletop candles, and fresh linens make the atmosphere feel more in line with the updated cuisine.
Related Articles
Explore Illinois