The World's Largest Laundromat Is In Illinois And It Has Free Coffee And Donuts
Did you know that you'll find the world's largest laundromat in Illinois? Yes, you read that correctly: while there are plenty of quirky roadside attractions and hidden gems in Illinois, the World's Largest Laundromat might just take the cake as most impressive. Talking about chores is no fun, but this locale finds a way to make it a little more exciting. Visit this massive yet well-maintained laundromat for a unique experience that you'll certainly never forget. In fact, there are so many things to enjoy here that you might not even want to leave when your laundry is done.
Offering everything from free food to games to live animals, this isn't your typical laundromat. Scroll on to check it out.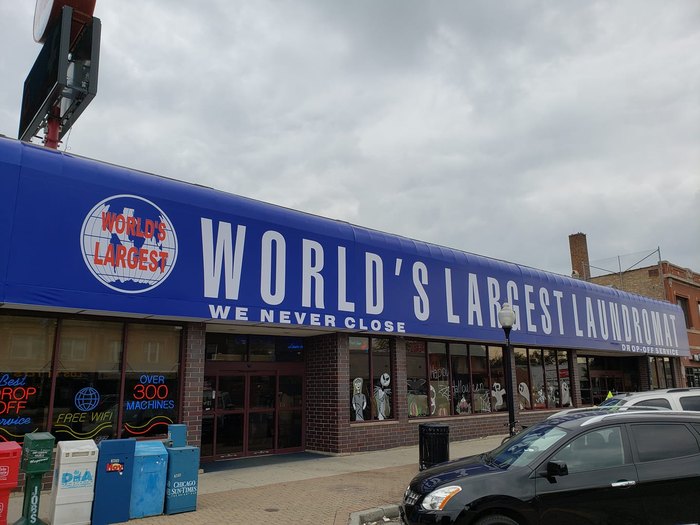 For all the details about the World's Largest Laundromat in Illinois, head to its official Facebook page or website. Have you been lucky enough to stop in for a wash cycle at this one-of-a-kind gem? We want to hear from you, so share your experiences with us in the Facebook comments or recommend another awesome day trip destination in Illinois by completing our nomination form.
Searching for something else out-of-the-box to do with family? Read about the 10 weirdest places to go in Illinois.
OnlyInYourState may earn compensation through affiliate links in this article.
Address: World's Largest Laundromat, 6246 Cermak Rd, Berwyn, IL 60402, USA
World's Largest Laundromat In Illinois
June 17, 2022
Are there any other roadside attractions in Illinois?
There's something truly special about exploring the World's Largest Laundromat, but it's not the only worthwhile locale situated in Illinois. If you're fascinated by world record-holding places and things, you'll want to follow this road trip to some of the best roadside attractions in Illinois. From the world's largest covered wagon to an impressive Superman statue, there's truly something to keep every member of the family smiling. Talk about a fun adventure!
Where else can I find the best donuts in Illinois?
We firmly believe that free donuts like the ones served at the World's Largest Laundromat are the best donuts, though this might not be a widely shared opinion. If you're a donut fanatic, you'll be pleased to learn that there's a mouthwatering donut trail through Illinois that will help you experience the state's most marvelous sweet shops. Whether you're obsessed with chocolate, enamored with sprinkles, or on the lookout for something more inventive, your next favorite donut awaits.
What are some other kid-friendly attractions in Illinois?
The unforgettable World's Largest Laundromat is decidedly kid-friendly, but it's in good company. Illinois is a dreamland for those traveling with families, offering ample things to do for visitors and residents of all ages. Read about some of the best kid-friendly attractions in Illinois when you're planning your next outing. Between indoor waterparks, wintertime sledding hills, arcades, and whimsical playgrounds, you'll find it easy to keep your little ones happy.