7 Beautiful Covered Bridges In Illinois That Remind Us Of A Simpler Time
With all the stress of modern life, it can feel great to get away from it all and hark back to a time that felt simpler and more idyllic. And what feels more perfectly American than an Illinois covered bridge? Whether you enjoy taking lovely fall drives through this gorgeous state, or you just love the idea of capturing the beauty of the first snowfall, there is something about these rural covered bridges in Illinois that is picturesque in all seasons and well worth the trip to see them.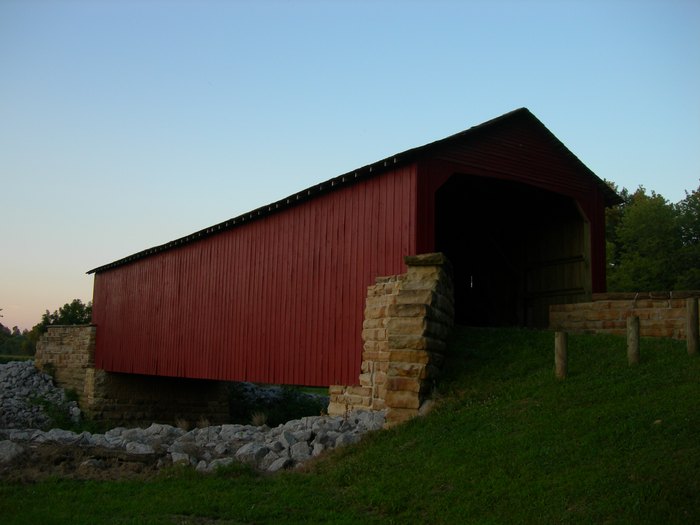 It's time to pull out the map, set up your GPS, and get out of Dodge for a little while. You'll enjoy feeling like you've stepped back in time when you check off each covered bridge on your list. Plus, being surrounded by some peace and quiet might just be the breath of fresh air you were looking for.
If you've already checked out any of these covered bridges in Illinois, we would love to hear from you in the comments. Let us know which ones were more beautiful in person or if there is a certain time of the year that's ideal for checking out some of these nostalgic structures. I think it's time to go on a road trip to do some lovely fall day trips in Illinois.
OnlyInYourState may earn compensation through affiliate links in this article.
More to Explore
Things To See And Do In Illinois
What are the most peaceful small towns in Illinois?
The most peaceful small towns in Illinois include:
Woodstock.

This quiet, family-friendly town has a wonderful historic downtown and offers a walking tour which is quite a delight.

Marion.

This town is home to the Marion Carnegie Library and the Crab Orchard National Wildlife Refuge which are great places to get away from the city noise.

Ottawa.

This great little town has amazing hiking trails and a state park with a pair of bison as well as several lovely city parks where you can kick back and relax.

St. Charles.

This riverside town is a mellow place with a lot of beauty and charm, and mom and pop shops you can quietly peruse.
Find out more about the most peaceful small towns in Illinois. 
What are some bucket list natural attractions in Illinois?
Bucket list natural attractions in Illinois include:
Bork Falls.

The waterfall here drops into turquoise waters and it's a wonderful swimming hole during the summer months and creates a rather idyllic scene.

Pomona Natural Bridge.

Located in the Shawnee National Forest, this natural rock bridge is 90 feet across and 30 feet high and is fun to traverse.

Burden Falls.

As one of the tallest waterfalls in the state, this one is 35 feet tall and is made up of several smaller falls and is a scene of beauty.

Giant City State Park.

There are swirling, otherworldly rock formations here that look like they'd be at home on an alien planet. 
Find out more about bucket list natural attractions in Illinois. 
What are some vintage country stores in Illinois?
Vintage country stores in Illinois include:
Elsah General Store.

You'll find vintage goods, old-fashioned sodas, and Moon Pies at this charming country store that is sure to bring some nostalgia.

Kane County Country Market.

This place is a combination of a vintage country store, a plant nursery, and a diner. Everything you need in one place!

Norton's U.S.A.

This store oozes vintage Americana with various gifts, garden tools, candies, home decor, and so much more to add a bit of whimsy and country charm to your home.

The Gathering.

This is a collection of six vendor rooms with antiques, spices, rugs, clothing, jewelry, and countless other treasures waiting to be discovered.
Discover more about these and other vintage country stores in Illinois. 
Related Articles
Explore Illinois