Visit 11 Christmas Light Displays In Illinois For A Magical Experience
'Tis the season to spread a little Christmas merriment by checking out some Christmas lights in Illinois! Whether you have little ones that can't wait to see Santa or you just really love experiencing the twinkling lights, these are some of the best Christmas lights in Illinois that are certain to dazzle. Bundle up in a comfy coat and sip on a comforting cup of hot cocoa. If you've been curious about Christmas lights near me, here are some fantastic Illinois Christmas lights, and they will absolutely brighten up our ever-lengthening winter nights.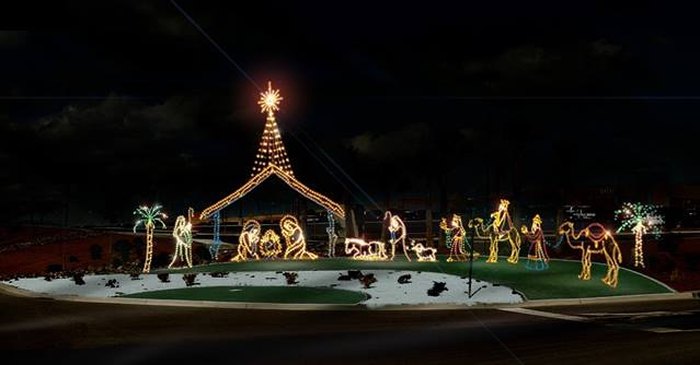 This joyful season comes but once a year. What are your favorite things to do this time of year? We might not be able to list all the beautiful light displays happening around the state, so be sure to share which ones lit up your holidays, and made the season just a little bit brighter for you. Still wondering about Christmas lights near me in IL? If you've discovered other Christmas lights in Illinois worth checking out let us know with a comment.
If you're looking for more festive fun, stop by this one-of-a-kind German Christmas market in Illinois.
OnlyInYourState may earn compensation through affiliate links in this article.
More to Explore
best Christmas light displays in Illinois
What is the largest Christmas lights display in Illinois?
Aurora's Festival of Lights is the largest Christmas lights display in Illinois. This dazzling attraction boasts of breathtaking sights and festive atmosphere. In past years, more than 21,000 cars passed through these twinkling gates. And the best part? This annual event is free! Donations are happily accepted and appreciated, so don't be a Scrooge. It's always great to give back this time of year.
What is there to do at Christmas in Illinois?
There are so many great things to do at Christmas in Illinois. In addition to the magical displays at East Peoria's Festival of Lights, the Rosemont Holiday Light Display, and the Way of Lights in Belleville, Illinois is home to some incredible theatrical performances. Watch the world-class dancers at the Joffrey Ballet perform the holiday classic The Nutcracker. This renowned ballet company always puts on a spectacular show. The lights, costumes, and music will immediately put you in the holiday spirit. It's great for the young and the young-at-heart!
What are the best Christmas towns in Illinois?
St. Charles is one of the best Christmas towns in Illinois. This lovely historic place becomes even more beautiful during the holidays. Every year, St. Charles hosts a magical parade full of colorful floats and festive treats. Santa Claus himself also makes an appearance! This is one can't-miss Christmas event. If you loved this then you should also visit the town of Galena. Their wonderful main street comes alive with lights and merriment every year. You definitely won't want to miss their annual "Night of the Luminaria & Living Windows." This will make you dream of sugarplums all night long. Eager for more? Read about the 10 best Christmas towns in Illinois.
Related Articles