You May Not Want To Swim In These 3 Idaho Lakes This Summer Due To A Dangerous Discovery
A few lakes in Idaho may be unsafe for you and/or your pets due to the presence of blue-green algae, also referred to as cyanobacteria.
Most types of algal blooms are actually not harmful, but the blue-green algae found in these waters are actually considered potentially dangerous. People and animals can become exposed to blue-green algae by swallowing or just coming into physical contact with water containing this type of algae, so be careful when you are on these lake beaches in Idaho. The most common health effects associated with coming into contact with blue-green algae are skin and eye irritation, but the more dangerous health effects include stomach pain, nausea, vomiting, diarrhea, dizziness, and difficulty breathing.
The Idaho lakes mentioned here have had advisories put out on them for potentially having dangerous amounts of blue-green algae in them. However, it's important to remember that not all bodies of water are being actively monitored and it's really up to you to judge the safety of any body of water.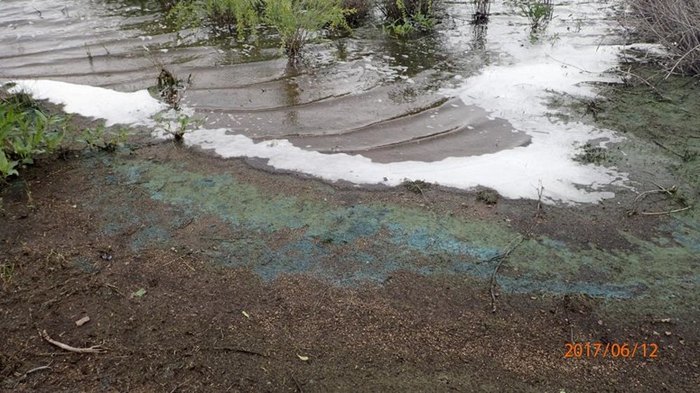 The Department of Environmental Quality monitors some, but not all, bodies of water in Idaho. Just because a body of water has no health advisory, it isn't necessarily safe. The best advice is "when in doubt, stay out." Use common sense and don't swim in water that is particularly foul-smelling or has foamy green scum on top. While most Idaho lakes are great, just be sure to be cautious. You can also check updates about algal bloom advisories.
OnlyInYourState may earn compensation through affiliate links in this article. As an Amazon Associate, we earn from qualifying purchases.
More to Explore
Lakes in Idaho
What are the most beautiful lakes in Idaho?
The most beautiful lakes in Idaho are:
Bear Lake
Lake Pend Oreille
Alturas Lake
Alice Lake
Alpine Lake
Our state is full of natural beauty, and there's no better way to enjoy it than taking a weekend trip or a quick drive to any of the most beautiful lakes in Idaho. There are so many gorgeous bodies of water to choose from, so we've narrowed it down a few of the best ones. Some of our favorites are Bear Lake, known for its gorgeous blue color, Alturas Lake, which features some of the clearest water in the state, and Alice Lake, the perfect place if you're craving amazing mountain views.
Are there any good swimming holes in Idaho?
These are the best swimming holes in Idaho:
Penny Lake. Ketchum
Upper Cannon Lake. Seven Devils
Dierkes Lake, Twin Falls
Quinn's Pond, Boise
If you're hoping to find good swimming holes in Idaho, you've come to the right place! There are lots of excellent natural places to go swimming during the warm months of the year. Quinn's Pond in Boise is a great family-friendly choice for a day trip. Bring your picnic basket and enjoy a beautiful day outside with your loved ones. This area is kid-friendly, as there is open space for playing and it's not a far walk from where you can park. St. Anthony Sandbar is another fun spot to swim, and even features a diving board for thrill-seekers.
What are the best easy waterfall hikes in Idaho?
The best easy waterfall hikes in Idaho are:
Lower Mesa Falls
Fall Creek Falls
Shoshone Falls
Perrine Coulee Falls
The best easy waterfall hikes in Idaho are ideal for a quick foray into nature without taking up an entire day. Check out the stunning Fall Creek Falls, which flows into the Snake River below. Shoshone Falls is another incredible sight. The waterfall is so big it might even remind you of Niagara Falls! The rushing water will relax you as soon as you arrive.
Related Articles
Explore Idaho