10 Swimming Holes In Idaho That Will Make Your Summer Complete
If lounging under a cloudless sky in the desert after an ice-cold dip in a peaceful pond seems like a little slice of paradise, it's closer than you think. But so is a chilly dip in a hidden mountain lake, or a revitalizing splash through ye ol' watering hole – you just have to know where to look!
There are endless opportunities to enjoy any of the best Idaho swimming holes with the family. Or, sneak off without the kids to find your own private Idaho (because you deserve a day off, too!). Either way, these swimming spots are perfect for a weekend getaway, a simple day trip, or a quick pit stop on your next adventure.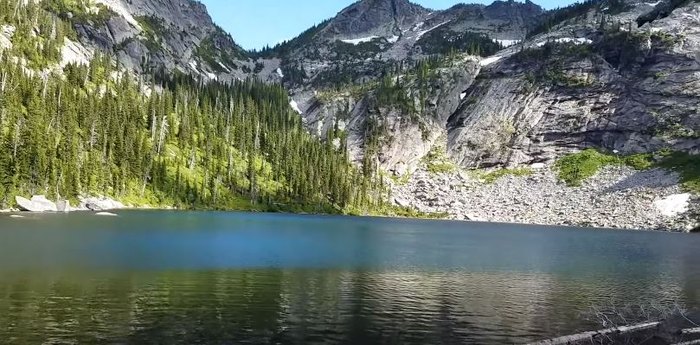 With so many natural hot and cool springs, waterfall watersheds, and swimming spots to choose from, the weary body in search of a spot to cool off or places to swim in Idaho will have no trouble finding the perfect place to eke out some summer fun. Northern Idaho's lakes and beaches are an absolute dream and great places to swim, the rocky glacial craters of Central Idaho are pristine and worth the challenging hikes, and the volcanic recesses of Southern Idaho were seemingly made for finding your own secret soaking space. Which one will you choose?
For more weekend adventure ideas, be sure to check these other favorite Idaho swimming holes as we continue to explore Idaho's best hidden (and not-so-hidden) gems.
OnlyInYourState may earn compensation through affiliate links in this article.
Idaho Swimming Holes
June 15, 2022
Are there any Idaho swimming holes located in state parks?
Absolutely. One of the most popular in The Gem State is called Beaver Bay Beach, located within Farragut State Park. It's a lovely four-mile loop hike to get to it and a pretty easy one for hikers of all abilities. The views are magnificent and you may want to camp nearby to visit the falls more than once.
Where can I find one of the best waterfall swim spots in Idaho?
Jump Creek Falls is definitely one of the best waterfall swim spots in Idaho. It is located off of Highway 95 approximately 10 miles from the town of Marsing. There's a little bit of a hike to get there, although it is short. And the views and cool waters of this 60-foot high falls is worth it!
What is good hiking spot in Idaho?
There are so many, some also featuring some of the best swimming holes in Idaho. One of them is in the Seven Devils Mountains. Here you will find multiple trails that traverse this massive park bordering the state of Oregon. While here, be sure to trek to the Heavens' Gate Lookout from where you can take in spectacular views of four states: the surrounding Idaho landscape, of course, and parts of Washington, Oregon, and Montana.
After a good swim or hike, I'm always looking for good burger restaurants near Boise. Can you suggest one?
Absolutely! In a throwback to the 1950s, Golden Wheel Drive-In has been a Boise area favorite since, well, the 1950s. This iconic establishment serves up some of the state's best burgers and is very popular with car show buffs who regularly come here. Look for the big wagon wheel under the sign, day or night, and you'll know that you're in the right place!