The 17 Very Best Day Trips You Can Possibly Take In Delaware
Delaware gets a bad reputation for being boring, and I've never been able to figure out why! Sure, we're a small state, but that just means that there's so much adventure within driving distance. Between vintage locomotives, beautiful beaches, and stunning state parks, it's impossible to sit around and do nothing in Delaware. The next time someone tells you "there's nothing to do in Delaware," take them on one of the day trips below.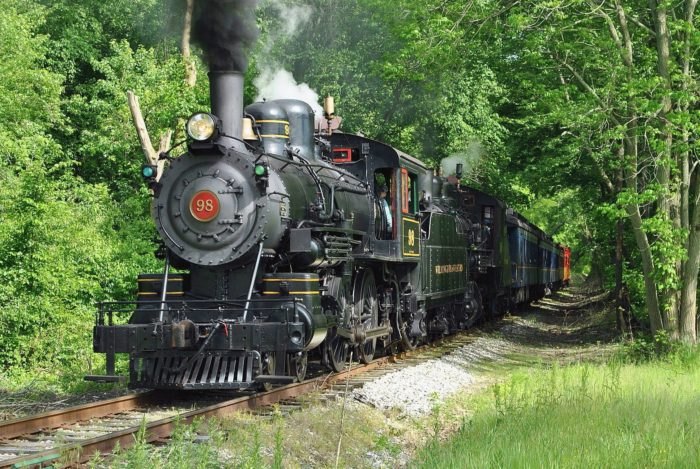 Which of these Delaware day trips is tops on your list for this spring?
Address: Wilmington & Western Railroad, 2201 Newport Gap Pike, Wilmington, DE 19808, USA
Address: Fort Miles Historic Area, 15099 Cape Henlopen Dr, Lewes, DE 19958, USA
Address: 3 Palms Zoo, 1060 Vandyke Greenspring Rd, Townsend, DE 19734, USA
Address: Riverwalk Farmers Market, S Walnut St, Milford, DE 19963, USA
Address: Dover, DE, USA
Address: Arden, DE 19810, USA
Address: Pizzadili Vineyard & Winery, 1683 Peach Basket Rd, Felton, DE 19943, USA
Address: White Clay Creek State Park Nature Center, 1475 Creek Rd, Newark, DE 19711, USA
Address: Winterthur Museum, Garden and Library, 5105 Kennett Pike, Winterthur, DE 19735, USA
Address: Mt Cuba Center, 3120 Barley Mill Rd, Hockessin, DE 19707, USA
Address: Lewes, DE 19958, USA
Address: Lavender Fields, 18864 Cool Spring Rd, Milton, DE 19968, USA
Address: Fenwick Island, DE, USA
Address: Laurel, DE 19956, USA
Address: Prime Hook Beach, DE, USA
Address: Dogfish Head Brewings & Eats, 320 Rehoboth Ave, Rehoboth Beach, DE 19971, USA
Address: Woodburn: Governor's House, 151 Kings Hwy SW, Dover, DE 19901, USA
Day Trips Near Me In Delaware
July 16, 2021
What are some must-visit attractions in Delaware?
There's truly something for everyone in Delaware. History buffs can make a full day out of exploring our most historic towns. Walk around New Castle to see the Court House, Battery Park, and buildings that are older than this country. The town of Odessa is another one that's packed with historic homes and buildings. Of course, the Green in Dover is a great place to see the First State's history. Nature lovers will enjoy a day spent in White Clay Creek, Trap Pond, or Lums Pond State Park. If you prefer the coast, head to Bombay Hook or Prime Hook – our two National Wildlife Refuges! These are two of the most important bird refuges on the East Coast. For specific attractions worth visiting, make sure to see the Lightship Overfalls, the Indian River Lifesaving Station, and Fort Miles Historic Area – all down on the coast. For family-specific attractions, it's hard to top Jungle Jim's or Funland – two of our best amusement parks!
Where can you visit on the best day trips in Delaware?
If you're looking to set aside a full day to enjoy the best of Delaware, you've got so many options! One that immediately comes to mind is the Cape May-Lewes Ferry. Spend the morning exploring Lewes, and then take a scenic ferry ride across the Delaware Bay to land at Cape May, New Jersey! Cape May is a great town to explore before heading back to Delaware. Other beachy day trips in Delaware include spending a day on the Rehoboth Beach boardwalk. You'll find food, shopping, amusements, and more – all in one spot! For some fun day trips in Delaware away from the coast, plan a visit to First State National Historic Park, which is a series of historic spots all linked together. The DuPont Estates like Winterthur, Hagley, and Nemours all make for excellent day trips in Delaware, too.
Address: Wilmington & Western Railroad, 2201 Newport Gap Pike, Wilmington, DE 19808, USA
Address: Fort Miles Historic Area, 15099 Cape Henlopen Dr, Lewes, DE 19958, USA
Address: 3 Palms Zoo, 1060 Vandyke Greenspring Rd, Townsend, DE 19734, USA
Address: Riverwalk Farmers Market, S Walnut St, Milford, DE 19963, USA
Address: Dover, DE, USA
Address: Arden, DE 19810, USA
Address: Pizzadili Vineyard & Winery, 1683 Peach Basket Rd, Felton, DE 19943, USA
Address: White Clay Creek State Park Nature Center, 1475 Creek Rd, Newark, DE 19711, USA
Address: Winterthur Museum, Garden and Library, 5105 Kennett Pike, Winterthur, DE 19735, USA
Address: Mt Cuba Center, 3120 Barley Mill Rd, Hockessin, DE 19707, USA
Address: Lewes, DE 19958, USA
Address: Lavender Fields, 18864 Cool Spring Rd, Milton, DE 19968, USA
Address: Fenwick Island, DE, USA
Address: Laurel, DE 19956, USA
Address: Prime Hook Beach, DE, USA
Address: Dogfish Head Brewings & Eats, 320 Rehoboth Ave, Rehoboth Beach, DE 19971, USA
Address: Woodburn: Governor's House, 151 Kings Hwy SW, Dover, DE 19901, USA