Bumper Cars On Ice Is Here In Delaware And It Looks Like Loads Of Fun
Do you remember bumper car battles at Funland when you were a kid? There was something so exciting about battling it out with siblings, strangers, and friends in the summer sun. Well, even though Funland is closed for the winter, you can still take yourself back to your childhood with a new kind of battle bot adventure! The Centre Ice Arena in Harrington, Delaware is home to bumper cars on ice, and you'll have a blast with this dizzying and thrilling family-friendly winter attraction.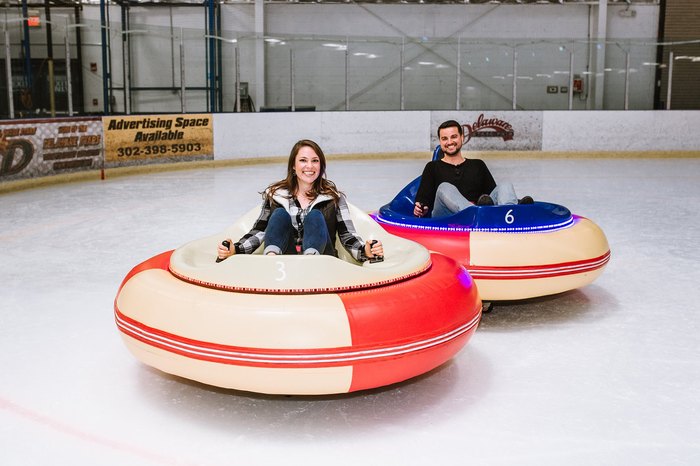 Book your tickets online and get more information about these bumper cars in Delaware on the Delaware State Fair website.
Have you ever experienced ice bumper cars in Delaware? If so, we'd love to hear all about your experience in the comments section! Also, don't forget to nominate your favorite winter attractions in the First State for a chance to see them featured in an upcoming article.
If you're looking for more icy fun in Delaware this winter, you'll love these ice rinks!
Address: 644 Rd 316, Harrington, DE 19952, USA
OnlyInYourState may earn compensation through affiliate links in this article.
Bumper Cars On Ice In Delaware & Related Info
November 27, 2022
What should I know about Delaware ice bumper cars?
Some of the most important things to know about Delaware ice bumper cars are:
Bumper cars only run during public skating sessions
Ride times are subject to change
The maximum combined weight of all occupants is 300 pounds per car
Rides last approximately 6-8 minutes
You must purchase your tickets at the rink's cashier post in the mezzanine
Tickets are only valid for the ride session for which they are purchased
One ticket equals one ride
Seatbelts must be worn at all times
All drivers must have a ticket
Street shoes may not be worn on the ice
Passengers must attend a safety briefing before boarding begins
Loading and unloading of bumper cars must be supervised by rink staff
All instructions given by rink staff must be obeyed
What is there to do during winter in Delaware?
The best activities to enjoy during winter in Delaware include:
Some of the best winter hiking in Delaware can be found in the Blackbird State Forest in Smyrna. This remote wilderness area is beautiful when it's covered in snow.
Tackle a monstrous sledding hill on Bear Mountain in Glasgow Park. It's one of the steepest snow tubing hills in the state, and there is no cost to take a plunge.
There are several opportunities to go ice skating in Delaware in the winter – both indoors and out. One of the best is the Riverfront Rink in Wilmington!
Delaware's Wilmington Ski Club is the only club in the state dedicated to winter sports, offering skiing, skating, and hiking.
Address: 644 Rd 316, Harrington, DE 19952, USA
OnlyInYourState may earn compensation through affiliate links in this article.