The Stunning Arizona Drive That Is One Of The Best Road Trips You Can Take In America
Call us biased, but we're convinced that Arizona has the most breathtaking natural scenery in America. From the lowland deserts down south to the lush alpine forests up north, our state has a little bit of everything. This road trip, centered around north-central and northeast Arizona, takes you from Canyon de Chelly National Monument to Humphreys Peak, making a few other scenic stops along the way. The 5.5-hour drive showcases some of the most beautiful places in Arizona, from the tallest mountain in the state to a 100-room ancient ruin to a waterfall that's taller than Niagara Falls itself. This is one road trip in Arizona that you will definitely want to check out for yourself. And, don't forget to read our Road Trip Essentials Packing List & Guide before you hit the road!
You'll find the customizable route for the trip on Google Maps.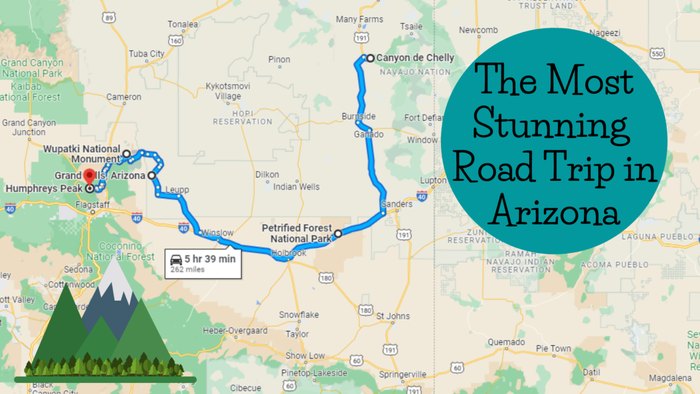 Would you take this road trip to some of the most beautiful places in Arizona? What are some of your favorite Arizona road trips? Tell us your thoughts in the comments below!
Don't forget to check out our previous article for another road trip that will make you fall in love with the Grand Canyon State all over again.
OnlyInYourState may earn compensation through affiliate links in this article.
Road trips in Arizona
December 09, 2022
What are some other Arizona road trips I should take?
If you love a good road trip, the Grand Canyon State is the place to be. All around the state, you can easily create an unforgettable road trip adventure. We have created dozens of road trips in Arizona with a variety of focuses. Some of our favorite Arizona road trips that we think you should check out include:
However, before you head on any road trip in Arizona, make sure you are prepared! Check out our ultimate road trip packing list to ensure you don't forget a thing. By following this list, you can be assured you will enjoy a comfortable, exciting, and safe road trip throughout the state.
What are some of the best scenic drives in Arizona?
When you are searching for some of the best scenic drives in Arizona, we have you covered. A few scenic drives in the Grand Canyon State that deserve a spot on your bucket list include:
What are some of the most beautiful places in Arizona that I should visit?
It is hard to narrow down the most beautiful places in Arizona as there are hundreds scattered all over the state. Whether this is your first time visiting the Grand Canyon State or you have lived here your entire life, some of the most beautiful places in Arizona that definitely deserve a visit include: