The Story Behind Devils Tower In Wyoming Is Incredibly Unique
Devil's Tower in Wyoming is a one-of-a-kind natural phenomenon with a unique story. Its stark towering presence, formation, and character are incredibly intriguing and mysterious. Both its natural and cultural history will help us to understand why Devils Tower is important.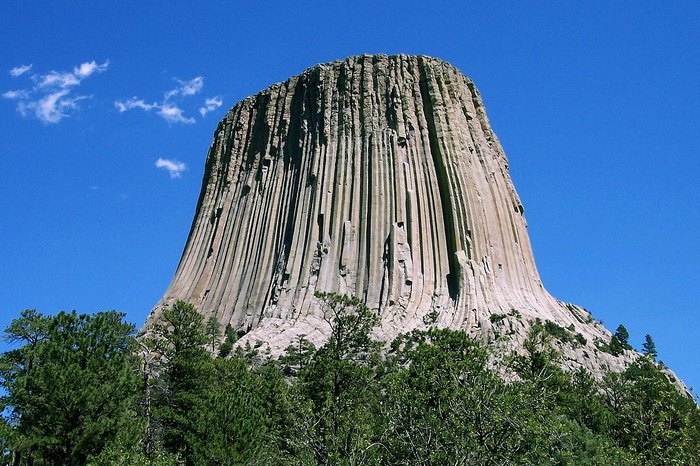 What other interesting tidbits do you know about the history or legends of Devils Tower? Let us know in the comments!
If you're interested in learning more about some of Wyoming's natural attractions, check out these amazing spots in Wyoming.
Address: Devils Tower, WY 82714, USA
OnlyInYourState may earn compensation through affiliate links in this article.
Devils Tower in Wyoming
May 30, 2022
What are the oldest attractions in Wyoming?
 Wyoming was born in 1868, meaning that there is quite a bit of history to it. Besides Devils Tower in WY,  just some of the oldest attractions include Yellowstone National Park, America's very first national park, which was established in 1872. Among its over two million acres, you'll find unique wildlife like bald eagles and elk, lakes and waterfalls, and then of course, there's the awe-inspiring geysers and hot springs. In Goshen County, you can visit Fort Laramie National Historic Site, a significant part of the westward expansion in the mid-19th century. Throughout history, it has served as a trading post, military outpost, and even a stopping point on the famed Oregon Trail.
Which state parks should I visit in Wyoming?
 There are 12 state parks within Wyoming (and two national parks as well). If you're near Cody, check out Buffalo Bill State Park. Here, you can take in the Absaroka Mountains, a sub-range of the majestic Rocky Mountains as well as camp, fish, or hike five miles of trails. In Lander, there's the 600-acre Sinks Canyon State Park. You can fish, hike, climb, and drive along the 70-mile scenic Loop Road. But probably the most popular reason to visit is see how the Popo Agie River disappears underground by the mouth of the canyon.
What is the weather like in Wyoming in the summer?
Like most other states, Wyoming experiences warm summer days. Just how warm will depend on where you are within the state. The plains and lower elevation areas average about 75-90 degrees in July, but the highlands have more comfortable temps, hanging around the range of 70-75 degrees. Nights drop to the 50s and 60s. In the early part of the summer, expect thunderstorms and even tornados. If you're looking for something to do in the warm weather, check out these awesome summer destinations in Wyoming.
Address: Devils Tower, WY 82714, USA
OnlyInYourState may earn compensation through affiliate links in this article.