The Sinister Story Behind This Popular Wyoming Lake Will Give You Chills
Typically, state parks are places for relaxation and lighthearted fun. One state park in Wyoming, however, has the shadow of tragedy darkening its history. You'll find Lake DeSmet in Wyoming near the base of the Bighorn Mountains, and although pioneers and travelers through the area came across it as early as the 1840s, Native Americans have known about it for generations. With a history of eerie incidents, the lake is the setting of an Indian legend that will give you chills.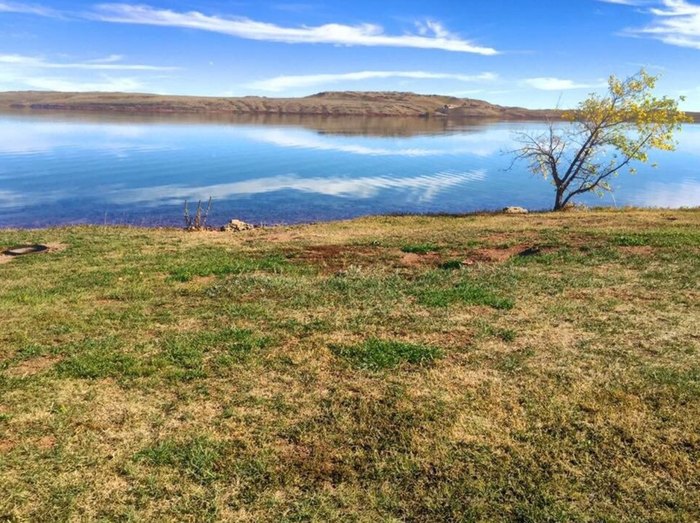 Check out this gorgeous video of the lake at sunset, it's hard to believe it has such a dark history with all of its beauty.
Have you visited Lake De Smet in Wyoming after dark? Did you see the mysterious spirit over the water or hear Little Moon's haunting cries? What are your picks for the creepiest places in Wyoming? Tell us your thoughts in the comments!
OnlyInYourState may earn compensation through affiliate links in this article.
More to Explore
Lake De Smet in Wyoming
Where is Lake DeSmet in Wyoming and how large is it?  
Lake De Smet is a gorgeous lake in northern Wyoming that consists of 3,400 gorgeous surface acres of crisp, clear water. At its deepest, Lake De Smet is 120 feet deep and it serves as a reservoir for Johnson County. It's a relatively new body of water, having been set up in 2013 by Johnson County Commissioners. It's an excellent place for swimming, fishing, boating, and other popular water-based activities, and during the summer months, it can become quite lively thanks to tourism and locals wanting to get out and enjoy our beautiful state while the weather is good for it. Anyone who knows anything about Wyoming knows it doesn't offer the friendliest climate in the winter. 
What is the most popular lake in Wyoming?  
Wyoming is home to a plethora of natural wonders, including some of the most beautiful lakes in the United States. It's well-known for its breathtaking places like Yellowstone National Park and the Grand Tetons, and those locales come with lakes so beautiful you might feel like you're in a movie instead of Wyoming! The most popular lakes for visitors and locals alike include gorgeous Wyoming gems like:
Jackson Lake, in Teton County

Yellowstone Lake, also in Teton County

Jenny Lake, found in – you guessed it – Teton County
Of course, there are amazing lakes in Wyoming almost no matter where you turn, so no matter what you're looking for, you're sure to find something breathtaking.  
What are some scary stories in Wyoming to tell around a campfire? 
Wyoming is an overwhelmingly beautiful state with a lot to do, see, and experience – and some of it extends into the realm of the spooky. Some notable scary stories of Wyoming – local legends, if you will – include that of the "little people" said to roam the land and attack Native tribes way back when. It was thought that these little people were nothing but a myth until some suspiciously small mummies were found while blasting the San Pedro Mountains. Then, there's the legend of the ghost ship on the Platte River, a "ship of death" that creeps along the water's edge on misty, foggy evenings and, should you see it, you ought to begin planning your funeral, for they say anyone who sees the ghost ship will die shortly thereafter.  
Related Articles
Featured Addresses

Lake De Smet, Wyoming 82834, USA