9 Wisconsin Natural Wonders You Need To Add To Your Outdoor Bucket List
Wisconsin is absolutely wonderful – and by that we mean it's full of natural beauty that never ceases to leave us in awe of the stunning sights ahead. Want proof? We thought you might, which is why we compiled this list of some of the state's best natural wonders. Brimming with natural beauty and sure to impress, these stunning sites belong on your bucket list. Take a look: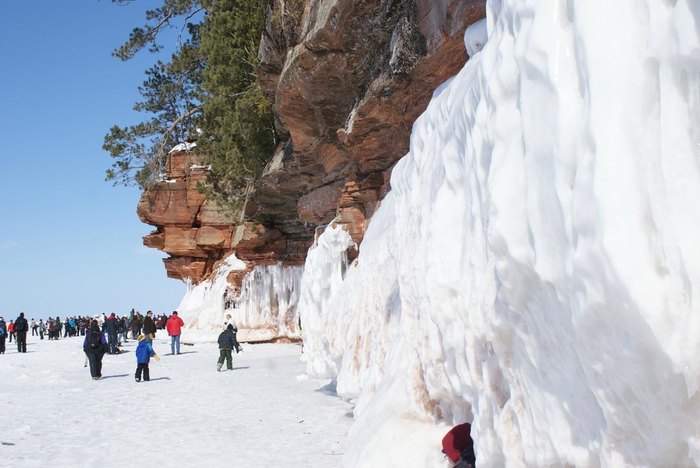 Did you know Wisconsin was home to these incredible wonders? Have you already visited any, or all, of them? What would you add to this list? Tell us in the comments section.
These aren't the only wonderful sites in Wisconsin. Read about another here.
OnlyInYourState may earn compensation through affiliate links in this article.
Address: 415 Washington Ave, Bayfield, WI 54814, USA
Address: 2975 Cave of the Mounds Rd, Blue Mounds, WI 53517, USA
Address: S5975 Park Rd, Baraboo, WI 53913, USA
Address: 1824 Washington Harbor Rd, Washington, WI 54246, USA
Address: N7725 WI-28, Horicon, WI 53032, USA
Address: E7992, North Freedom, WI 53951, USA
Address: Wisconsin 35, WI-35, St Croix Falls, WI, USA
natural wonders in Wisconsin
March 29, 2021
What are the most beautiful hikes in Wisconsin?
Take a breezy hike through Horicon Marsh, or enjoy stunning views from Wyalusing State Park. The Nordic Trail is an amazing trek in winter, and the Lions Den Gorge offers breathtaking scenery you'll never forget. For more of the best hikes in Wisconsin, check out our list of the top 15 treks and trails in the Badger State, here.
What are the best beaches in Wisconsin?
Believe it or not, our landlocked state is home to dozens of beautiful beaches. There are hundreds of miles of Great Lakes shoreline, and you'll find the most scenic and accommodating stretches of sand on that lake coast. Visit Schoolhouse Beach and North Beach to see Lake Michigan in all its glory, or enjoy an afternoon sunning yourself along Big Bay Beach, on Lake Superior.
Which state parks should I visit in Wisconsin?
Wisconsin's State Park system is one of the best in the country, and there are dozens of stunning preserves that offer fun outdoor adventures for anyone who loves to spend time in nature. Some of our favorites include Devils Lake State Park, Amnicon Falls State Park, Governor Dodge State Park, and Newport State Park. Each one shows off something spectacular about the Badger State! Visit Newport State Park on a New Moon night and you'll see the darkest skies in Wisconsin.