There's An Arcade Bar In Washington And It Will Take You Back In Time
Sometimes nothing beats an evening of playing good old-fashioned arcade games — except, of course, playing good old-fashioned arcade games in a place that serves adult beverages. We're lucky to have several arcade bars here in Washington, but one of our favorites is 8-Bit in Renton. Enjoy a game of pinball with a cold beer at this unique arcade bar in Washington!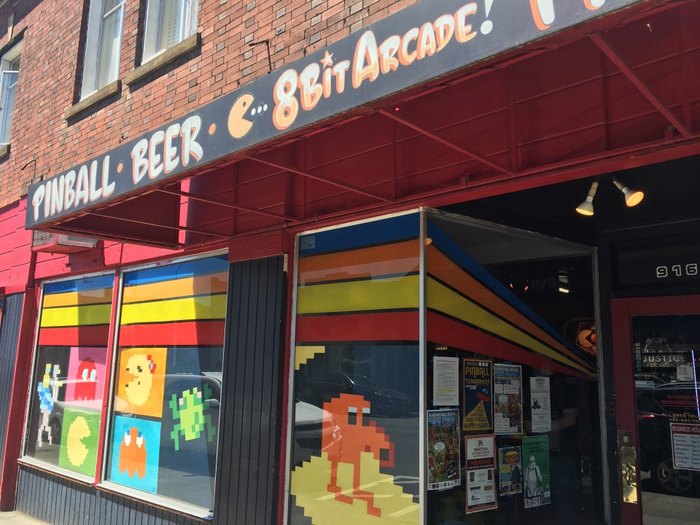 We love the concept of an arcade bar because it's the perfect way to combine good old-fashioned games with a little adult fun. Did you know about this arcade bar in Washington? Be sure to check out 8-Bit Arcade Bar the next time you're on the west side of the state!
Address: 916 S 3rd St, Renton, WA 98057, USA
OnlyInYourState may earn compensation through affiliate links in this article.
Arcade Bar In Washington
May 03, 2021
What are some nostalgic places in Washington?
If you feel like stepping back in time, there are all kinds of retro places in Washington that will leave you nostalgic! From bowling alleys to drive-ins and diners, The Evergreen State is full of nostalgic little spots that will make you swoon. Open since 1941, Chalet Bowl in Tacoma is Washington's oldest operating bowling alley, and a place for good, old-fashioned fun. If you enjoyed the above arcade bar in Washington, Dorky's Arcade in Tacoma is another place to check out. There are at least 114 games inside this arcade, with new options being brought in regularly. Favorites include pinball and air hockey, as well as Galaga and Star Wars. Lastly, Blue Fox Drive-In is a total gem of a place. This old-school drive-in theatre has been around for 60 years, treating Washingtonians to countless double features.
Does Washington have many vintage stores?
Washington is chock-full of vintage shops and flea markets that boast some of the best antiques and wares you'll ever find — and some pretty impressive bargains, too! For more of a farmers market kind of experience, Fremont Sunday Market is pure bliss. This year-round European-style market has everything you never knew you needed. You'll find vintage items, crafts, antiques, collectibles, and street food here every Sunday. This flea market in Washington has a unique selection of antiques, oddities, handmade items, and vintage finds. People come here for the selection: there are over 100 vendors, each offering some truly unique items you just won't find anywhere else.
What are some unique places to visit in Washington?
Washington has some truly one-of-a-kind destinations, and Mary Lou's Milk Bottle in Spokane is truly one of the most unique. The restaurant building is literally a giant milk bottle built in 1935 by dairy merchant Paul E. Newport to make dairy products more appealing to kids. The building operated as a retail dairy for 40 years until it went out of business in 1974, then served as a secondhand shop until 1986, when it was converted into a restaurant. Today, Mary Lou's Milk Bottle is an old-timey diner that serves burgers, sandwiches, and downright addictive milkshakes. It's a must-visit restaurant in Washington! In terms of unique roadside attractions, take your pick! From giant cowboy boots to sharks literally coming out of buildings, Washington is full of unique places sure to satisfy your appetite for weird.
Address: 916 S 3rd St, Renton, WA 98057, USA
OnlyInYourState may earn compensation through affiliate links in this article.