14 Virginia Water Parks That Will Make Your Summer Unforgettable
Warmer days mean finding creative solutions to beating the heat. But before you start to panic about how you're going to entertain the kids, the out-of-town guests, or even yourself during the summer months, we've got the solution. These 14 water parks in Virginia are a surefire way to beat the heat while having the time of your life. Even if you're not a throw-yourself-down-a-watery-pipeline kind of person, these water parks in Virginia offer a variety of activities to suit thrill seekers and relax-by-the-pool types alike.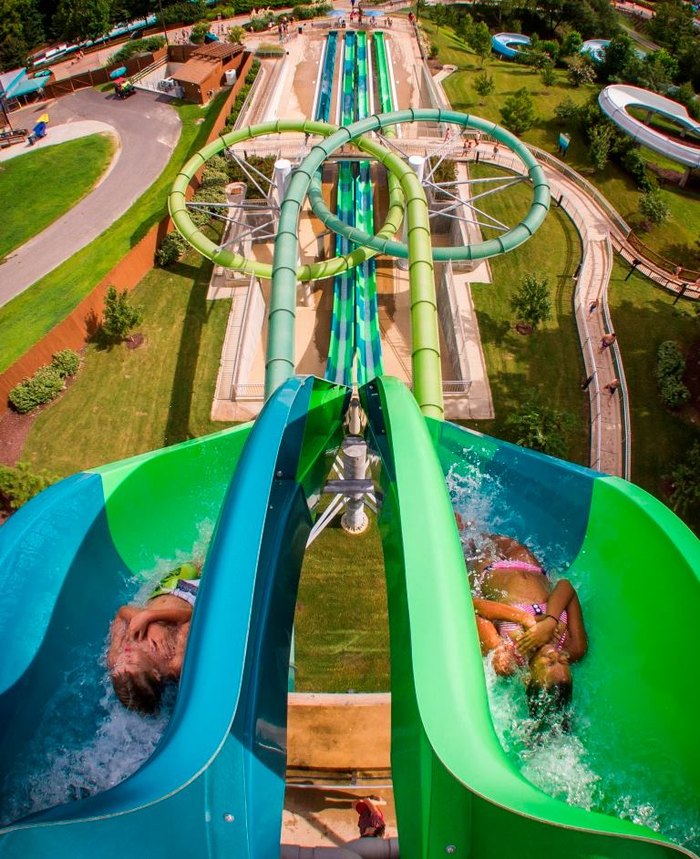 Water parks in Virginia are always a great idea for the whole family. Many of them offer season passes at a discount, as well as special events throughout the summer. So start planning now — and in the meantime, tell us about your favorite water parks in Virginia in the comments below!
OnlyInYourState may earn compensation through affiliate links in this article.
Address: Water Country Pkwy, District 1, VA 23185, USA
Address: Kings Dominion Boulevard, Kings Dominion Blvd, Doswell, VA, USA
Address: 849 General Booth Blvd, Virginia Beach, VA 23451, USA
Address: 7415 Wood Haven Rd, Roanoke, VA 24019, USA
Address: Great Wolf Lodge Williamsburg, 549 E Rochambeau Dr, Williamsburg, VA 23188, USA
Address: 1200 Adventure Dr, Massanutten, VA 22840, USA
Address: 6501 Pohick Bay Dr, Lorton, VA 22079, USA
Address: 7500 Ben Lomond Park Rd, Manassas, VA 20109, USA
Address: Great Waves Waterpark, 4001 Eisenhower Ave, Alexandria, VA 22304, USA
Address: 20015 Volcano Island Dr, Sterling, VA 20165, USA
Address: The Omni Homestead Resort, 7696 Sam Snead Hwy, Hot Springs, VA 24445, USA
Address: 5301 Dale Blvd, Woodbridge, VA 22193, USA
Address: 1400 Lake Fairfax Dr, Reston, VA 20190, USA
Address: 6060 Wilson Blvd, Arlington, VA 22205, USA
Water parks in Virginia
May 03, 2021
What are the best summer destinations in Virginia?
With the arrival of summer, Virginia becomes a land of adventure. From breathtaking outdoor attractions to charming small towns, major cities, and just about everywhere in between, the Old Dominion is perhaps the most fun to explore during the warm months. Some of the best -- and lesser-known -- summer destinations in Virginia include Carter Mountain Orchard in Charlottesville, Sandbridge in Virginia Beach, Lake Anna in Spotsylvania, Peaks of Otter in Bedford, Caledon State Park in King George County, Tangier Island, Busch Gardens in Williamsburg, Shenandoah Caverns in Quicksburg, and the Martinsville Speedway. Learn more about these incredible summer destinations in Virginia.
Does Virginia have any swimming holes?
Now that you've learned about some of the best water parks in Virginia, it's time to venture into the wild a bit more. You'll find that Virginia has loads of natural swimming holes, and they can be incredibly refreshing. Some of the best swimming holes in Virginia include Little Stoney Creek Falls, Devil's Bathtub, the Beach at Tangier Island, Douthat State Park, Emerald Pond in New Market Gap, and the Shenandoah River. Learn more about these lesser-known swimming holes in Virginia.
What are some fun things to do in Virginia?
As mentioned above, Sandbridge Beach is one of the lesser-known summer destinations in Virginia. However, it also makes for a great day trip in any season. Located south of Virginia Beach, this sandy stretch of shoreline is positively beautiful. Plus, it's relatively uncrowded compared to the main beach. For more inspiration, check out our list of fun things to do in Virginia.