You'll Want To Cross These 22 Amazing Bridges In Virginia
Bridges are something that we sometimes take for granted. Oftentimes, they just feel like a continuation of the road and we don't stop to think about the incredible feats of engineering that went into making them. And when you think back to a time when rivers, streams, and even ocean inlets kept travelers from getting where they needed to go, it's easy to realize just how important bridges really are. Especially in Virginia where waterways cut through almost every part of the state, it's hard to imagine life without them. These 22 bridges in Virginia range from historic to modern, large to small, but they all offer beauty and purpose that, at the end of the day, is pretty impressive.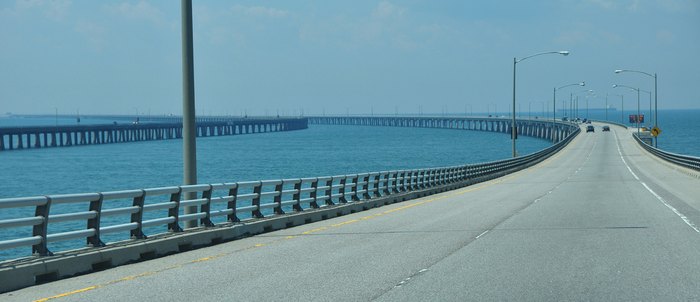 I'm sure we've left more than a few off the list – but these are definitely among our favorite bridges in Virginia. If you enjoy architectural wonders like bridges, here is some of the most impressive architecture in Virginia.
OnlyInYourState may earn compensation through affiliate links in this article.
Address: Chesapeake Bay Bridge-Tunnel, Virginia, USA
Address: Bedford County, VA, USA
Address: George P Coleman Memorial Bridge, Yorktown, VA, USA
Address: James River, Virginia, USA
Address: High Bridge Trail, Farmville, VA, USA
Address: Humpback Bridge, Midland Trail, Covington, VA 24426, USA
Address: Newport News, VA 23607, USA
Address: Arlington, VA, USA
Address: Newport, VA 24128, USA
Address: Giles County, VA, USA
Address: Bunch Walnuts Rd, Chesapeake, VA 23322, USA
Address: Richmond, VA, USA
Address: Augusta County, VA, USA
Address: Meems Bottom Covered Bridge, Wissler Rd, Mt Jackson, VA 22842, USA
Address: Natural Bridge Station, VA 24579, USA
Address: VA-3, White Stone, VA 22578, USA
Address: 1275 Jacks Creek Rd, Woolwine, VA 24185, USA
Address: Buchanan, VA 24066, USA
Address: Dan River, United States
Address: Woolwine, VA 24185, USA
Address: State Rte 613, Amissville, VA 20106, USA
Address: Natural Bridge, VA 24578, USA
Bridges In Virginia
May 07, 2021
What are the most beautiful structures in Virginia?
We have to hand it to ourselves - humans are really good at building things. We've created impressive skyscrapers, beautiful archways, and incredible monuments. Some of Virginia's most beautiful and breathtaking structures include places like the massive Amphitheater at the Arlington National Cemetery. The round building of stone arches can seat 5,000 people. It completed construction in 1920 and is still standing strong today. Richmond, Virginia is full of impressive buildings. One of the most stunning is the Old City Hall, with high towers and amazing stonework using local granite.
Where can I see the most unique places in Virginia?
Explore some of the coolest, yet most unusual structures in Virginia. The Light of Truth Universal Shrine, or LOTUS, located in Buckingham, is certainly one of a kind. This temple looks like something out of a circus but is quite interesting and serene. It's dedicated to the many faiths and spiritualities found all over the world, and it's open to the public for noon meditation every day. Did you know that Virginia has a castle? One man quit his job and built his dream home - a whole castle - in Aldie, Virginia. Although you can't go inside, you can see it from the outside and be impressed by the castle-ness of it all.
What covered bridges in Virginia can I visit?
One of the most charming parts of Virginia's history is its covered bridges. Back in the day, there were hundreds around the state. Today, there are only seven remaining and of those seven just four are visitable by the public. If you'd like to cross a covered bridge for yourself, check out this list of all four. The list includes picturesque bridges like the Humpback Bridge that we showed before. It's like taking a little trip back in time to the simpler days - plus, the scenery surrounding them is usually quite pretty. You'll definitely want to bring your camera with you if you visit any of them.