18 Best Hikes In Utah: The Top-Rated Hiking Trails To Visit In 2023
Get ready to explore the incredible beauty of the Beehive State with our curated list of the 18 best hikes in Utah. These trails are our top picks for a good reason – as they capture the landscapes and natural wonders that make Utah a hiker's paradise. From the iconic Delicate Arch in Arches National Park to the breathtaking vistas of Angels Landing in Zion National Park, each hike offers a unique experience. Whether you're seeking dramatic rock formations, serene waterfalls, or panoramic views, these trails have something for every adventurer. Lace-up your boots and gear up for an unforgettable hiking journey through the spectacular terrain of Utah.
Best Hikes in Utah
Utah is a haven for the outdoorsy, offering a plethora of hikes that showcase the state's natural beauty. Among the best trails are the Angels Landing Trail in Zion National Park, Navajo Loop and Queens Garden Trail in Bryce Canyon National Park, and the Delicate Arch Trail in Arches National Park. So grab your hiking boots, pack some snacks, and get ready to be blown away by the best hikes in Utah.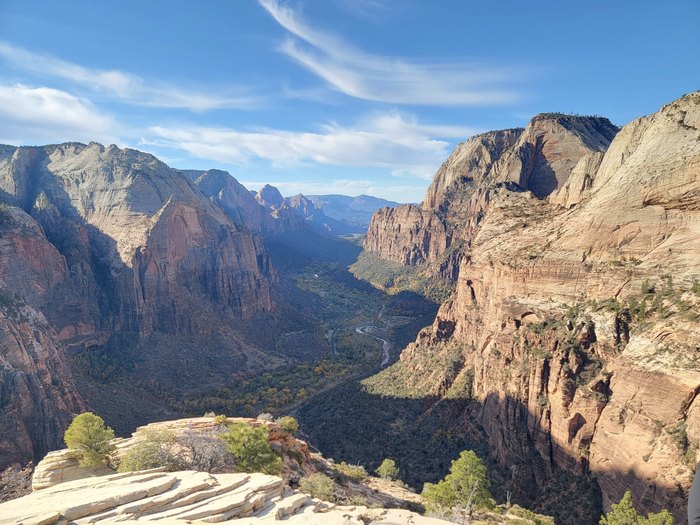 Best Short & Easy Hikes in Utah
If you're looking for short and easy hikes in Utah that still pack a punch, you can't miss out on The Zion Narrows Riverside Walk, Sunset Point to Sunrise Point in Bryce Canyon, and the Landscape Arch Trail in Arches National Park. These hikes may be short and sweet, but they'll leave you with unforgettable memories of Utah's natural splendor.
Hardest Hikes in Utah
The state offers a variety of difficult hikes that are not for the faint-hearted. Among these hikes is the East Rim Trail to Mystery Canyon, which is considered one of the hardest hikes in the state due to its rugged terrain and steep ascents. Another hike is The Ridges of Albion Basin, known for its narrow trails and steep drop-offs. Finally, Cascade Mountain to Provo Peak via Upper Pole Couloir is a hike that requires technical skills to navigate the steep couloir. Overall, Utah has some of the most challenging hikes in the country, which offer stunning views and a great sense of accomplishment for those who can conquer them.
Best Waterfront Hikes in Utah
If you're looking for waterfront hikes, Utah has got you covered. Some of the best trails you should check out include the Lake Blanche Trail, Bell Canyon Trail to Lower Falls, and Lake Mary Trail. No matter which you pick, you're in for a real treat and a truly unforgettable experience in Utah's natural scenery. Get your hiking boots ready!
Best Winter Hikes in Utah
Looking for some of the best winter hikes in Utah? Look no further than Fastpitch Trail, North Fork Loop, and Big Mountain Pass in Little Dell Rec Area! These trails offer views of the surrounding mountains and are perfect for a winter hike. Whether you're an experienced hiker or just starting out, these trails offer something for everyone.
Best Hikes near Salt Lake City
If you're on the lookout for some great hikes near Salt Lake City, we highly recommend checking out Donut Falls Trail, Living Room Lookout Trail, and Cecret Lake Trail. These are some of the best hikes in the area, with beautiful scenery and challenging terrain that will keep you engaged throughout your journey.
Have you enjoyed any of these trails? Think they are some of the best hiking trails in Utah? What do you think are the best places for a day hike in Utah? Let us know your favorites – we'd love to hear from you!
Whether you're looking for a difficult hike with lots of switchbacks or on the hunt for trails for beginners in southern Utah, this hub has everything you'll need, and be sure to Try AllTrails+ For Free!
OnlyInYourState may earn compensation through affiliate links in this article. As an Amazon Associate, we earn from qualifying purchases.
More to Explore
The Best Hikes In Utah
Does Utah have good hiking trails?
Utah's best hiking trails include:
What are the best months to hike in Utah?
Utah's most popular time for visitors is typically between September and December, as well as April and June when the weather is most pleasant. However, each season in Utah has its own advantages, depending on the activities and destinations you have in mind. Fall offers stunning foliage colors and fewer crowds, while winter is perfect for skiing and snowboarding in world-class resorts. Spring showcases vibrant wildflowers and the awakening of desert landscapes, while the summer months invite outdoor adventures such as river rafting, camping, and hiking. No matter the time of year, Utah has something to offer for everyone's preferences and interests.
Related Articles
Explore Utah
Featured Addresses