Posted in Texas
April 30, 2023
This Family-Friendly Day Trip Through Texas Leads To A Train-Themed Restaurant And Railroad Museum
All aboard for one of the most family-friendly day trips in Texas you can possibly take! This entirely train-themed adventure takes you from a railroad museum to a train car restaurant, and it's tons of fun for all ages. There's even an option to extend the trip into an overnight getaway by staying in a vintage 1920s caboose!
You'll find the customizable itinerary for the trip on Google Maps.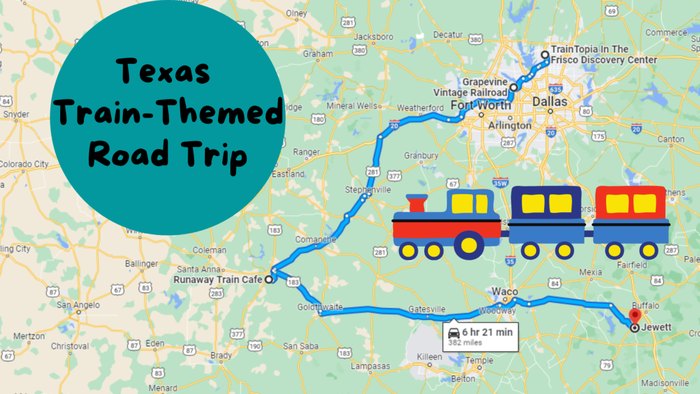 Would you take this train-themed day trip from Frisco? Do you agree that these are some of the best railroad museums in Texas? If you've visited any of these places or have other stops you would include, be sure to share with us in the comments below! We would love to hear from you.
Don't forget to check out our previous article for more of the best day trips in Texas.
OnlyInYourState may earn compensation through affiliate links in this article.
Family-Friendly Day Trips In Texas
May 05, 2023
What are some other family-friendly day trips in Texas?
If you and your family are not train enthusiasts, don't worry, we have day trips for you, too! There is quite a variety of family-friendly day trips in Texas to be taken. A few of those trips include:
Indulge your sweet tooth as you follow the donut trail on that leads you to no less than 10 stop on this donut day trip in Texas.
More of a weekend trip than a day trip, travel around and take in the beauty of nature on this waterfall road trip in Texas.
Go wild when you visit Fossil Rim Wildlife Center in Glen Rose. You can take a safari tour, photography tour, and if you want you can turn your day trip into an overnight trip.
What are some of the best railroad museums in Texas?
Throughout the great state of Texas, homage is paid to trains and their history. If you're interested in learning more, be sure to check out these railroad museums. Some even include train rides!