Sip Wine And Mingle With Ghosts At La Carafe, One Of Texas' Oldest, Most Haunted Bars
Given our state's rich and extensive history, Texas is home to its fair share of supposedly haunted places. From restaurants to cemeteries, the ghosts of historical figures and war-torn soldiers have infiltrated countless buildings. One such place, La Carafe in Texas, is a Houston bar that dates back to the 1800s. Not only is it a hotbed for paranormal activity, but the building also has more quirk and character than any establishment of its kind.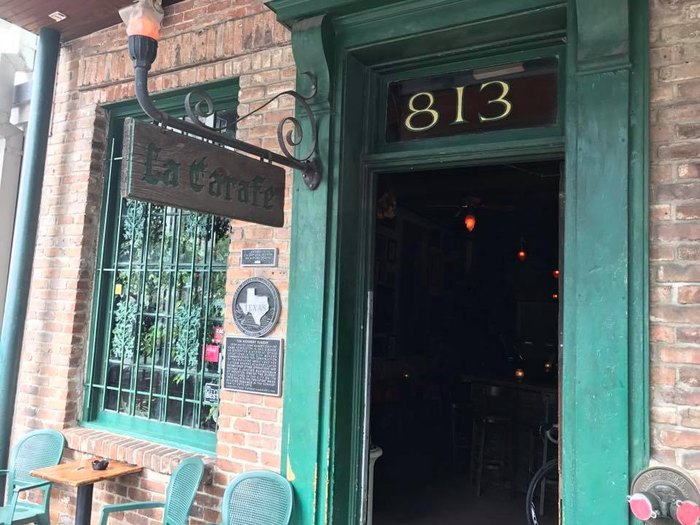 Have you ever been to La Carafe in Texas? Did anything strange happen during your visit? Share your thoughts with us in the comments below!
To read about another haunted place in Houston, check out our previous article: You'll Never Forget Your Visit To The Most Haunted Restaurant In Texas.
OnlyInYourState may earn compensation through affiliate links in this article.
Address: La Carafe, 813 Congress St, Houston, TX 77002, USA
La Carafe in Texas
October 19, 2020
What are the most famous Texas ghost stories?
The Lone Star State is rich in history, so it's no surprise that it has its fair share of ghost stories. One of the most famous haunted tales took place at the famous Driskill Hotel in Austin. This gorgeous property dates all the way back to 1886, and numerous ghosts are rumored to wonder the halls. If you smell cigar smoke in an empty ballroom, chances are it's the spirit of former owner Jesse Driskill. If you hear the sounds of crying children in the lobby, you may just have encountered the ghost of a little girl who died within these walls.
Are there any haunted hotels in Texas?
Yes! The Driskill isn't the only haunted hotel in Texas. In fact, you'll find spooky places all throughout the state. The Emily Morgan Hotel, located in San Antonio, is also rumored to be full of paranormal activity. Established in 1924, this stunning destination is known to spook its guests. Occasionally, visitors open their doors only to see a hospital room from the early 20th century. The mirage soon fades, but the eerie energy always lingers. Want to learn more about Texas's haunted happenings? Check out our list of the most haunted hotels in Texas.
Are there any ghost towns in Texas?
The Lone Star State isn't just known for ghosts and orbs. There are actually tons of fascinating, abandoned ghost towns in Texas! If you want to escape into the past for an afternoon, pay a visit to Shafter. This once-bustling town is now a quiet and desolate area. It's almost hard to believe miners used to fill the streets with energy! As you meander through the spooky town, you may even see a few spirits from days gone by. If you really love exploring abandoned places, embark on this Texas ghost town road trip!