10 Under-Appreciated State Parks In Tennessee You're Sure To Love
You may have heard of the more-popular Rock Island State Park and Burgess Falls, but did you know Tennessee has over 50 state parks and natural areas that don't get enough lovin'?! We went through and scoured the list of state parks to visit in Tennessee, and found the best spots that get sloughed off during the prettier months of the year. How many of these gems have you visited…? Or do you have a couple to add to that bucket list of yours? Take a closer look at 10 under-appreciated state parks to visit in Tennessee.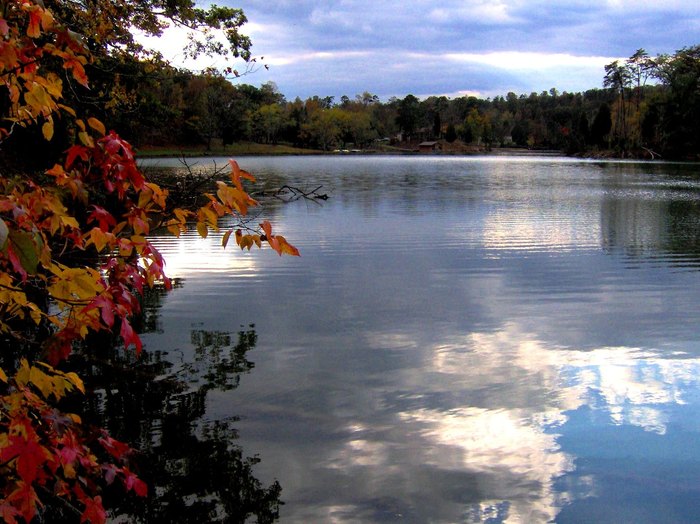 So, what do you think about these state parks to visit in Tennessee? How many can you check off your bucket list? Make sure to let us know in the comments section!
Did you that there's a Secret Garden In Tennessee You're Guaranteed To Love…?
Address: Big Ridge State Park, 1015 Big Ridge Park Rd, Maynardville, TN 37807, USA
Address: Bicentennial Capitol Mall State Park, 600 James Robertson Pkwy, Nashville, TN 37243, USA
Address: Cove Lake State Park, 110 Cove Lake Ln, Caryville, TN 37714, USA
Address: David Crockett State Park
Address: Dunbar Cave State Park, 401 Old Dunbar Cave Rd, Clarksville, TN 37043, USA
Address: Edgar Evins State Park Road, Edgar Evins State Park Rd, Tennessee 38582, USA
Address: Norris Dam State Park, 125 Village Green Cir, Rocky Top, TN 37769, USA
Address: Indian Mountain State Park, 143 Indian Mt State Park Cir, Jellico, TN 37762, USA
Address: Natchez Trace State Park, 24845 Natchez Trace Rd, Wildersville, TN 38388, USA
Address: Standing Stone State Park, 1674 Standing Stone Park Hwy, Hilham, TN 38568, USA
State Parks To Visit Tennessee
February 09, 2022
What is the most popular state park in Tennessee?
If you're searching through a list of the best state parks in Tennessee to visit and you don't know which one to land on, we have a popular choice for you to check out. Rock Island State Park in Tennessee is a real gem just 85 miles from Nashville. With 883-acres of space, plus a 30-foot waterfall, this historic state park is well worth a visit. There are even designated swimming areas in this park so you can keep cool during the warmer months.
Can I hike to historical sites in Tennessee?
Sometimes the best parks in Tennessee are the ones that have the coolest historical sites. With a state that has such a rich history, it's only fair that hiking throughout Tennessee can bring about a ton of delightful pockets of history. Start with exploring the ruins of this 1,500-year-old ancient village in Old Stone Fort State Archaeological Park. Then move on to these 7 Nashville hiking trails that lead to some pretty incredible old ruins.
What are the best family-friendly hikes in Tennessee?
Looking for some exciting things to do outside in Tennessee with kids? How about planning a trip for some hiking?! There are tons of hiking trails in Tennessee that are perfect for families to trek together. For instance, this easy one-mile hike in Middle Tennessee will take you to Rutledge Falls for some waterfall views! Meanwhile, this other family-friendly hike is under two miles and will take families along the Stone Door Trail in South Cumberland State Park.
Address: Big Ridge State Park, 1015 Big Ridge Park Rd, Maynardville, TN 37807, USA
Address: Bicentennial Capitol Mall State Park, 600 James Robertson Pkwy, Nashville, TN 37243, USA
Address: Cove Lake State Park, 110 Cove Lake Ln, Caryville, TN 37714, USA
Address: David Crockett State Park
Address: Dunbar Cave State Park, 401 Old Dunbar Cave Rd, Clarksville, TN 37043, USA
Address: Edgar Evins State Park Road, Edgar Evins State Park Rd, Tennessee 38582, USA
Address: Norris Dam State Park, 125 Village Green Cir, Rocky Top, TN 37769, USA
Address: Indian Mountain State Park, 143 Indian Mt State Park Cir, Jellico, TN 37762, USA
Address: Natchez Trace State Park, 24845 Natchez Trace Rd, Wildersville, TN 38388, USA
Address: Standing Stone State Park, 1674 Standing Stone Park Hwy, Hilham, TN 38568, USA