The Ultimate Waterfall Road Trip In Tennessee Is Right Here – And You'll Want To Do It
Do you have a free Saturday coming up? Is spring calling your name, the beauty of the greenery, and fresh flowers the only hope cracking through the winter chill? Well, you lucky Middle Tennesseans – we have quite the treat for you. A road trip absolutely perfect for spring or summer or the burning depths of autumn that circles five of Ol' Rocky Top's gorgeous waterfalls. Time to fill up the gas tank, because you're going to want to take this epic waterfall road trip in Tennessee as soon as possible.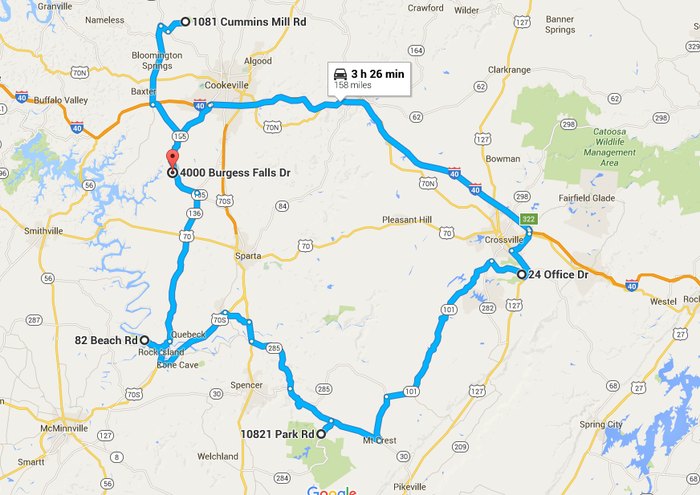 If you're looking to find the exact road trip, check it out here. Did we miss your favorite one? Let us know below!
Address: Cummins Falls, Tennessee 38501, USA
Address: Burgess Falls, Tennessee 38544, USA
Address: Ozone Falls, Tennessee 37854, USA
Address: Fall Creek Falls, Tennessee 37367, USA
Address: Caney Fork, Tennessee, USA
waterfall road trip in Tennessee
February 25, 2021
What are the best waterfall hikes in Tennessee?
It's no surprise that Tennessee is home to some of the most breathtaking waterfall hiking trails in the U.S. Hen Wallow Falls located in the Great Smoky Mountains National Park is an ideal destination for peeping falls. After exploring the 4.4-mile trail, relax among the park's beautiful wildflowers with a picnic lunch, or if you want to extend your visit pitch a tent at one of the 100 surrounding campgrounds. Over in Sparta's Virgin Falls Pocket Wilderness are the magnificent Virgin Falls and Big Laurel Falls where hikers discover unique natural caves and cenotes trekking the stunning 9-mile path. Laurel-Snow Falls near Dayton is a great waterfall hike for those looking for a little challenge. The 10-mile round trip trail winds along through creeks, an old coal mine, and the Dayton Reservoir famous for its crystal teal waters.
What are the best road trips through Tennessee?
With so many exciting destinations unique to Tennessee there's no shortage of trip ideas to keep your weekends busy all year round. Our country's musical history is deeply rooted in Tennessee, birthing country music, influencing blues, rock and roll, and R&B cultures, and is home to the most popular tourist attraction, Dollywood. Road trip to the Country Music Capital of Nashville and explore the Music City Walk of Fame and the beloved Grand Ole Opry. The beautiful town of Gatlinburg is home to traditional mountain music where you can immerse yourself in Tennessee's heritage and incredible natural beauty. Head down the old Blues Highway to Memphis and check out some live music and of course, their world-famous BBQ. We guarantee you won't be singing the blues!
Where should I go to take photos of Tennessee?
Picturesque places are innumerable across our state and photographers can capture incredible images during every season of the year. The lush and majestic mountain landscapes of Great Smoky Mountain National Park make it an extremely popular destination to snapshot Tennessee's endless natural beauty. Downtown Knoxville harbors The World's Fair Park, an entertainment complex offering incomparable 360-degree views from the iconic Sunsphere observation deck. On the border of North Carolina, Clingmans Dome rises 6,643 feet, the highest point in Great Smoky Mountain National Park, and has an observation tower where visitors can take in views of the Smokies' incredible terrain.
Address: Cummins Falls, Tennessee 38501, USA
Address: Burgess Falls, Tennessee 38544, USA
Address: Ozone Falls, Tennessee 37854, USA
Address: Fall Creek Falls, Tennessee 37367, USA
Address: Caney Fork, Tennessee, USA