The Pizza At This Delicious Southern California Eatery Is Bigger Than The Table
Did you know where you can find the largest pizza in Southern California? And that is not hyperbole! We can bet you've never seen a pizza in Southern California quite like this one hiding right here inside this local pizzeria. Here's a look at what you'll find when you order at Big Mama's and Papa's Pizzeria.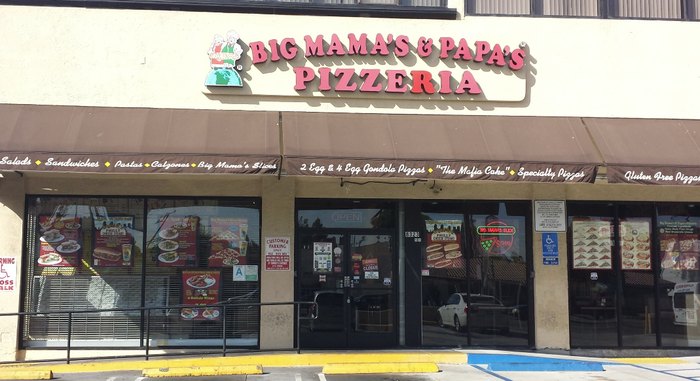 Have you ever seen anything quite like the largest pizza in Southern California? If you'd like to try out Big Mama's and Papa's Pizzeria for yourself, you can get more information by hiding to their official website. For more pizza shops that will drive your taste buds wild, make sure to check out these 10 pizzerias in Southern California that are beyond delicious.
OnlyInYourState may earn compensation through affiliate links in this article. As an Amazon Associate, we earn from qualifying purchases.
More to Explore
Largest Pizza In Southern California
What are the best hole-in-the-law restaurants in Southern California?
We all know that the best food comes from those spots that look don't look like much from the outside. It's hard to beat a good hole-in-the-wall, and Southern California has a good collection of them. The best hole-in-the-wall restaurants in Southern California cross a range of cuisines from across the world and vary from take-out windows to comfy sit-down spots. You can get killer sushi at Miyagi Sushi, Bourdain-certified tacos at Tacos Villa Corona, or cozy comfort classics at Chicken Box.
What are some of the most romantic restaurants in Southern California?
There are so many romantic restaurants in Southern California. An area known for its delicious food and restaurants with killer ambiance, Southern California is the perfect spot to grab a delicious meal with a paramour in a romantic and gorgeous setting. While a restaurant named after a Tolkein novel may not seem romantic on the surface, you would be wrong to pass up this underrated spot. The Hobbit is a dimly lit, gorgeously decorated, romantic enclave that serves a multi-course meal that takes you to multiple spots within the stunning restaurant. If you're a wine enthusiast, never fear, they have a whole cellar, and you'll even get to enjoy your appetizers in it!
Which restaurants have the best patios in Southern California?
Isn't it lovely to eat with a nice breeze? We love a good meal outside and there are lots of awesome spots to enjoy patio dining in Southern California. For waterfront dining, try Ports O Call. Here you can watch ships pass by as you sip a refreshing cocktail and enjoy a leisurely meal. For mountain views we can't recommend Orange Hill enough. There are little fire pits to get cozy around so it's perfect for all seasons. We also think you'll love the upscale but still classic comfort food at Cliffs Edge. This spot is so comfy and welcoming, perfect for a group of friends.
Related Articles
Explore Southern California