The Tranquility Of Deep Creek Hot Springs In Southern California Is The Ultimate Paradise
If you need to rest and unwind, the Deep Creek Hot Springs in Southern California is the perfect spot to relax. At the end of a moderately difficult hike, you will find the soothing waters of this spring-fed pool to be refreshing and invigorating. You can find both hot and cold areas in these gorgeous natural springs! Check it out: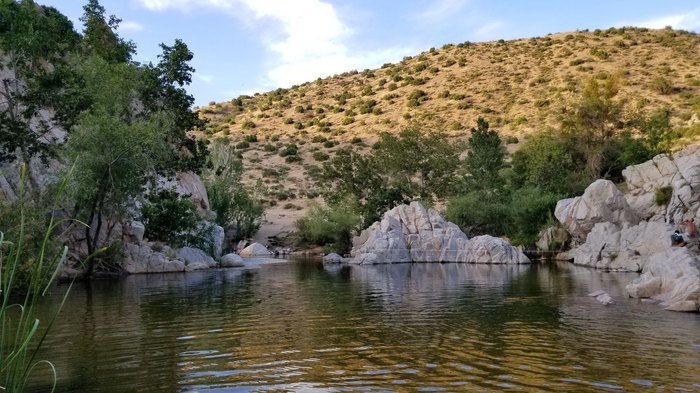 Have you ever been to Deep Creek Hot Springs? What did you think? Is it worth visiting? Let us know in the comments – we love hearing your thoughts.
If you're in the mood for even more natural springs, check out why Hot Springs Are All The Rage In Southern California And Here Are 8 Of Them.
OnlyInYourState may earn compensation through affiliate links in this article.
Address: Bowen Ranch Rd, Apple Valley, CA 92308, USA
Hot Springs in Southern California
January 07, 2022
How many natural hot springs are in Southern California?  
California isn't just known for it amazing ocean beaches; it's also got plenty of amazing natural hot springs sprinkled all over. It's pretty perfect – you can laze on the beaches during summer, and then soak in hot springs during winter. It's foolproof! In Paso Robles, you can find Franklin Hot Springs. They're pleasant, at just 100 degrees year-round; it's believed that the water has healing properties thanks to its high mineral content. In San Luis Obispo, you can find at least two amazing hot springs (Avila Hot Springs and Sycamore Mineral Springs). You can even find some in and near Los Angeles, so no matter where you're coming from, you're sure to find one nearby. In total, there are well over two dozen natural hot springs locations in Southern California alone. To learn more about all the ones we've mentioned here (and then some), check out this list.  
What are some wonderful winter getaways in Southern California?  
Don't let SoCal's reputation as a summertime paradise fool you: it's also amazing during winter. In fact, did you know that you can go skiing around here? You sure can – there are plenty of ski resorts to go around! For example, there's Bear Mountain, which is home to Southern California's only "superpipe" and is very much worth a stay. There is also Mountain High, which has different ski runs for different skill levels and has a little bit of something for everyone. Also, check out Mammoth Mountain, Snow Summit, and Snow Valley – each of those places will give you a winter getaway you'll never forget. If ski resorts aren't your thing, don't worry – there's always the hot springs. You can also find the perfect Airbnb or bed and breakfast in one of the Southern California towns known for going all-out each winter to become a veritable wonderland, or take the kids winter hiking on an easy trail.  
OnlyInYourState may earn compensation through affiliate links in this article.
Address: Bowen Ranch Rd, Apple Valley, CA 92308, USA