This South Carolina Ancient Tree Is The Coolest Thing You'll Ever See For Free
If there is one thing locals and visitors alike love about the Lowcountry of South Carolina, it's the tree-lined streets framed by lovely old live oak trees. Whether you're admiring one of the many tree tunnels in the Palmetto State or driving a short distance out of your way to see the oldest live oak tree in the state (below), you can't help being awestruck by their majesty. Even better? This awe-inspiring natural wonder is one of the best things you can do in South Carolina for free!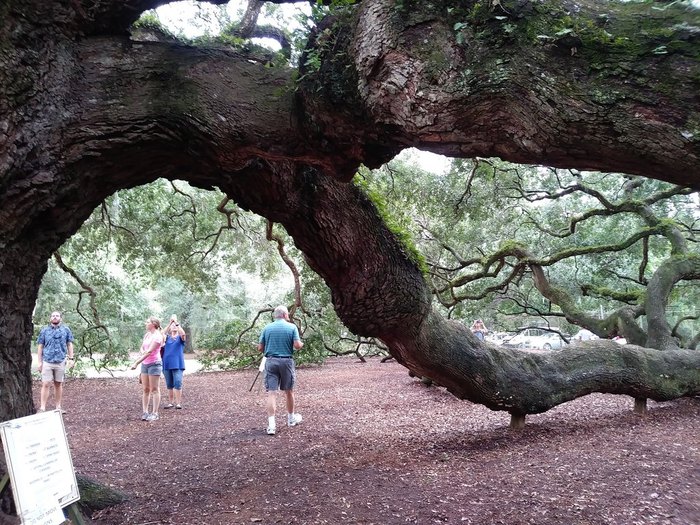 Walking into Angel Oak Park is like stepping into a real-life fairy tale. This humble park in South Carolina is home to trees that are between 300-500 years old, and while they're not towering giants like those found on the West, they are no less resplendent. This modern-day miracle easily tops the list of best things to do in South Carolina for free, and it's a place that belongs on every Palmetto State explorer's bucket list!
OnlyInYourState may earn compensation through affiliate links in this article.
Address: Angel Oak Tree, 3688 Angel Oak Rd, Johns Island, SC 29455, USA
Things to do in South Carolina for free
January 09, 2023
What are some other epic things to do in South Carolina for free?
Exploring the Palmetto State doesn't have to break the bank. In fact, some of our best and most awe-inspiring natural wonders can be witnessed for free! Here are some epic things in South Carolina you can do for free:
Congaree National Park - Hopkins. Spend the day exploring the country's largest old growth bottomland forest. Several trails allow visitors to navigate through the forest and swamp that's basically South Carolina's very own Everglades!
Visit the Edisto River. The two sources of the Edisto River are actually found in two separate counties (Saluda and Edgefield) and about 30 miles apart The two streams flow toward the Atlantic, merging into one just below Columbia. As one of the longest blackwater rivers in the country, the Edisto flows a total of 250 miles as it makes its way to the Atlantic Ocean near Edisto Beach. In places, the river's color is so dark, your imagination will run wild at what lies beneath the surface!
Forty Acre Rock. Hike up to the top of Forty Acre Rock to explore natural pools of water filled with colorful rare plants that only grow in this nature preserve in South Carolina. Forty Acre Rock actually clocks in at 14 acres, not 40 as the name suggests, though it's definitely impressive in all its 14 acres!
Peachtree Rock. Another epic South Carolina rock formation, head to Peachtree Rock Heritiage Preserve in Lexington and take a short hike to discover a top-heavy rock oddly shaped like a peach tree. But this isn't the preserve's first Peach Tree Rock. Until about five years ago another Peachtree Rock was in the spotlight; however, it toppled over. You'll see both of them on the trail that winds through this locale.
God's Acre Healing Springs. People drive from all over to partake in the natural spring water found at God's Acre. The water here is credited with having special healing properties. Oddly enough, the spring isn't named for the divine intervention of the healing waters, rather, it got its name because when the owner of the springs died, he willed the springs to God upon his death. Hence, the name. Find this SC wonder at Springs Ct, Blackville, SC, 29817.