7 Pristine Hidden Beaches Throughout Pennsylvania You've Got To Visit This Summer
Summertime is all about relaxation – whether we're staying cool in the A/C or spending time in the water to cool down while soaking up the sun. While we might not live in a coastal state, we certainly have access to some absolutely breathtaking beaches throughout Pennsylvania that provide the perfect way to spend a summer day. Here are just seven of the best beaches in Pennsylvania.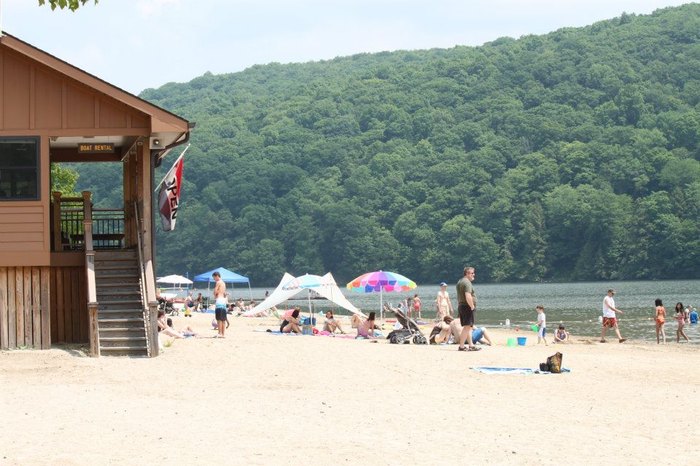 What do you think are the best beaches in Pennsylvania? Let us know in the comments! If you're up for a quick road trip, set off on this two-hour waterfall road trip in Pennsylvania that will take you to 12 sensational waterfalls.
OnlyInYourState may earn compensation through affiliate links in this article.
Address: Laurel Hill State Park, 1454 Laurel Hill Park Rd, Somerset, PA 15501, USA
Address: Poe Valley State Park, 136 Poe Valley Rd, Penn Township, PA 176832, USA
Address: Raccoon Creek State Park, 3000 PA-18, Hookstown, PA 15050, USA
Address: Beltzville State Park, 2950 Pohopoco Dr, Lehighton, PA 18235, USA
Address: Parker Dam State Park, 28 Fairview Rd, Penfield, PA 15849, USA
Address: Cowans Gap State Park, 6235 Aughwick Rd, Fort Loudon, PA 17224, USA
Address: Bald Eagle State Park, 149 Main Park Rd, Howard, PA 16841, USA
Best Beaches In Pennsylvania
April 06, 2022
What are some of the best Pennsylvania beaches to visit?
It's probably safe to say that the most well-known and popular beaches are those that sit along Lake Erie in Presque Isle State Park. The 13 sandy beaches draw countless beachgoers from Pennsylvania and beyond all summer long. While they certainly warrant a visit, you'll definitely want to check out some of the other lesser-known beaches in Pennsylvania, too, that are tucked in state parks. Black Moshannon State Park in Rush Township is home to a quaint, sandy beach that's perfect for sunbathing then cooling off in the water. For an old-fashioned beach trip, plan a getaway to the darling town of Mount Gretna. There is an admission fee to Mount Gretna Lake & Beach, but it's well worth it to spend the day jumping in the water, tubing, and lounging on the beach. The popular summer destination also features a restaurant and tables that are perfect for having a picnic.
How do I find out if there are any beaches near me?
Chances are that no matter where you live in the state, you aren't too far from one of its many sandy beaches. Some of the best beaches in Pennsylvania are at its many state parks, including Laurel Hill State Park in Somerset. The 1,200-foot sandy beach, which is perfect for relaxing on a simmering summer day, leads into the 63-acre Laurel Hill Lake. Parker Dam State Park in Penfield is perfect for the whole family as the swimming area of the lake tops out at five feet. Relax on the beach, and grab a bite to eat or a drink from the seasonal snack shop. Cowans Gap State Park in Fort Loudon offers a sandy beach and a 42-acre lake that is popular for swimming, kayaking, and boating.