These 6 Breathtaking Waterfalls Are Hiding Around Philadelphia
Philadelphia might be a big city in the crowded, dense Northeast, but it's not too hard to find breathtaking nature just a short distance away from the busy city streets. The following parks and trails in Philadelphia (and around it!) will take you through gorgeous scenery and bring you right to stunning waterfalls. If you got here by looking up something like waterfalls near me, you're in luck: check these incredible Philly-area cascades out ASAP!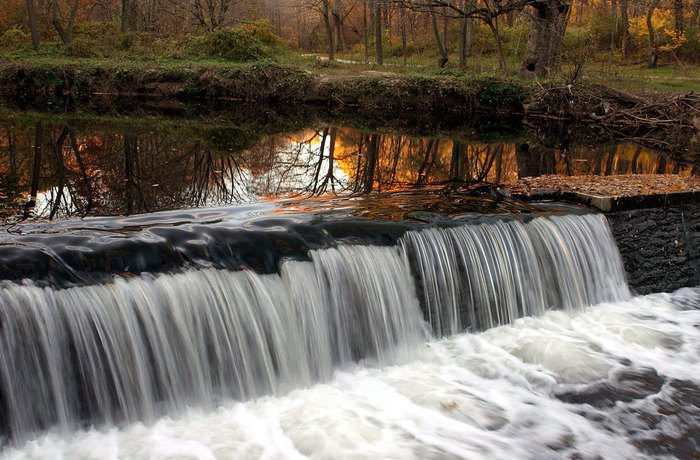 If you're looking for more hikes near Philadelphia to add to your bucket list, read about the epic hiking spots around Philadelphia that are completely out of this world!
What are your favorite Philly-area hiking trails? Do any of them have waterfalls? Tell us about them in the comments!
Address: Ridley Creek State Park, 1023 Sycamore Mills Rd, Media, PA 19063, USA
Address: Glen Onoko, Jim Thorpe, PA 18229, USA
Address: Wissahickon Valley Park, Valley Green Rd, Philadelphia, PA 19128, USA
Address: Pennypack Park, Pennypack Trail, Philadelphia, PA 19136, USA
Address: Washington Crossing, PA 18977, USA
Address: Bushkill Falls, Lehman Township, PA 18324, USA
Address: Buttermilk Falls, Mountain Rd, Layton, NJ 07851, USA
Waterfalls Near Me
June 22, 2022
What are some of the best waterfall hikes in Philadelphia? 
Okay, maybe there aren't a lot of literal waterfalls within Philadelphia, but there certainly are plenty around and near Philly to talk about! Some of the best waterfall hikes near Philadelphia will truly blow you away, like the legendary hike to Devil's Falls, which might be the only waterfall we can think of that's in Philly. It's a small waterfall, but it is beautiful – though no swimming is permitted in the beautiful pool the falls cascade into. Just an hour and 50 minutes away from the city is the famed Red Dot Trail, which features jaw-dropping views of the Delaware Water Gap, as well as Mount Minsi.  
What are some wonderful hiking trails with waterfalls in Pennsylvania?  
There are plenty of amazing waterfall hikes in Pennsylvania – especially when you needn't narrow it down to just cascades within two hours of Philadelphia. With more than 200 named hiking trails with waterfalls in Pennsylvania, where do you begin? How about with the most popular waterfall hiking trail in Pennsylvania, the stunning Ricketts Glen Falls Loop? This one is challenging, yes, but it's ever so worth it being considered one of the best waterfall hikes in the eastern United States. Other notable waterfall trails in Pennsylvania include the short-and-sweet Hawk Falls Trail at Hickory Run State Park, the Shades of Death Trail, also at Hickory Run, and the Cave Falls and Jim Thorpe Overlook at Lehigh Gorge State Park.  
Which waterfalls in Pennsylvania are the largest?  
With more than 180 amazing waterfalls all over the state of Pennsylvania, you've got a lot of items to add to your waterfall-chasing bucket list! The tallest waterfall in Pennsylvania is Raymondskill Falls, which has three amazing tiers to it and measures up at an impressive 178 feet when you add them all together. It's only a few feet shy of matching the overall drop of Niagara Falls! The next-tallest waterfall in Pennsylvania is Dingmans Falls, coming in at 130 feet tall, and Ganoga Falls, which measures up at 94 feet tall. By the way, Ganoga Falls is located within Ricketts Glen State Park, and accessed via the Fall Trail – which has 20 more waterfalls on top of the one mentioned here!  
Address: Ridley Creek State Park, 1023 Sycamore Mills Rd, Media, PA 19063, USA
Address: Glen Onoko, Jim Thorpe, PA 18229, USA
Address: Wissahickon Valley Park, Valley Green Rd, Philadelphia, PA 19128, USA
Address: Pennypack Park, Pennypack Trail, Philadelphia, PA 19136, USA
Address: Washington Crossing, PA 18977, USA
Address: Bushkill Falls, Lehman Township, PA 18324, USA
Address: Buttermilk Falls, Mountain Rd, Layton, NJ 07851, USA