You'll Want To Visit These 7 Beaches For The Most Beautiful Oregon Sea Glass
Did you know that Oregon is overflowing with beautiful sea glass? These colorful gems begin as shards from glass bottles, worn smooth by the ocean over many years and then deposited on the shore. Our coastline is particularly well-suited for sea glass hunting, as it is best created by turbulent waves and pebbled shores. Seaside treasure hunting can be enjoyed all along the Oregon Coast, from Astoria down to Brookings. Take a look at seven beaches where you can discover the most beautiful Oregon sea glass: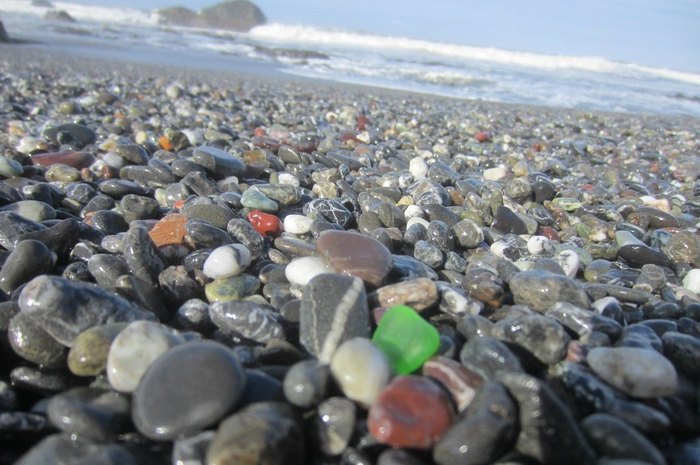 We love hunting for sea glass, not only because it's a colorful treasure to uncover – it also helps clean up the beaches. Sea glass is a true trash-to-treasure find! For your best chance at finding colorful sea glass, check the tidal charts before you go out beachcombing – low tides uncover much more beach area to explore.
How many of these glass beaches in Oregon have you explored? Are you lucky enough to have stumbled upon one of the incredible glass floats hidden on the beach in Lincoln City? If so, we're incredibly jealous! Share your thoughts, photos, and experiences with us in the comments. For more picturesque beaches in the Beaver State, check out this one-of-a-kind Oregon beach you'll fall in love with right away.
OnlyInYourState may earn compensation through affiliate links in this article.
Glass Beaches in Oregon
February 12, 2023
How many glass beaches in Oregon exist? 
Though the exact number of glass beaches in Oregon is uncertain, there are numerous well-known places where you can find it. Sea glass is formed when glass – regular ol' glass – is washed up on the shores of the ocean, where it spends an eternity and a half being jostled and "sanded" by the sea. The result, over time, is sea glass – exquisitely beautiful, round stones made of old, tumbled glass. We like to think of it as nature reclaiming what's hers. Plus, it's fun to look for!  
Where can I find sea glass in OR? 
So, what if you want to track down some of this Oregon sea glass for yourself? No worries – there are lots of options for finding sea glass in OR. Some of our favorite beaches for hunting for OR sea glass are beaches like:  
Moolack Beach – five miles of pristine beach with gorgeous waterfront views and plenty of glass to be found

 
Gold Beach – a gorgeous community well known for its pristine beach (on which you can find plenty of sea glass)

 

Beverly Beach – another favorite of ours for sea glass. 

 
Learn more about some of our favorite beaches in Oregon – they're all amazing!   
Which OR beaches should I add to my bucket list? 
Speaking of the best beaches in Oregon, we have plenty of all-time favorites. Some of our favorite beaches in Oregon are ones including:  
Crescent Beach – often overlooked in favor of a more popular beach nearby, Crescent Beach is a little slice of paradise.

 

Short Sand Beach – an amazing, foresty beach that's like something out of a fairy tale.

 

Hobbit Beach – seriously so much like Middle Earth that that's its name. 

 

Secret Beach – stunning and secluded, this one's perfect for watching the sun go down. 

 
Learn more about all these beaches and more on this amazing Oregon beaches road trip.