This Town In Oregon Was One Of The Most Dangerous Places In The Nation In The 1880s
The little coastal town of Astoria sits right at the spot where the mighty Columbia River meets the Pacific Ocean. The port town became an important site for salmon fishing and canning in the late 19th-century. It also became one of the most dangerous places in Oregon — and, more broadly, n America.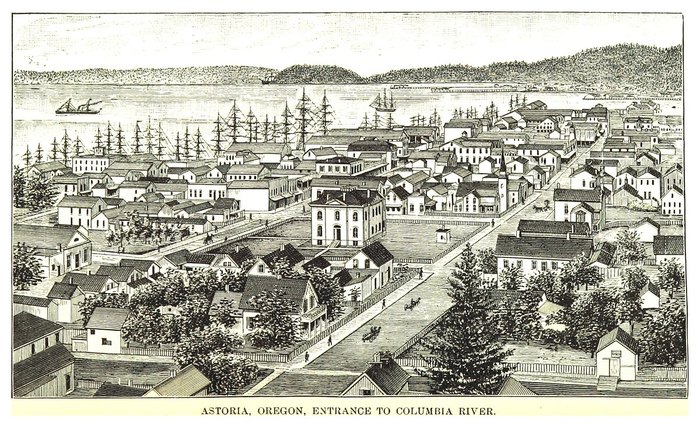 Though fishing continues to be one of the most dangerous jobs in the world, in Astoria, 1880 it was about as bad as you can imagine. For more information about the history of salmon fishing in Astoria, take a look at this article by Finn J.D. John in Offbeat Oregon History.
If you're interested in seeing more photos depicting Oregon's history, take a look at this article with photos taken during the Great Depression.
OnlyInYourState may earn compensation through affiliate links in this article. As an Amazon Associate, we earn from qualifying purchases.
More to Explore
most dangerous places in Oregon
Is Astoria still one of the most dangerous places in Oregon?
While Astoria was one of the most dangerous places in Oregon back in the 1800s, today, it no longer holds such a title. Which is great, because it's no secret we love Astoria. This quaint town on the Oregon Coast is peak PNW vibes: naturally beautiful, oozing with charm, and full of the region's distinct brand of seaside scenery. It's also a movie mecca, with numerous museums (hello, Oregon Film Museum!) and noteworthy sites attracting legions of film fans from all over, making it a wonderful destination for a weekend getaway in Oregon. While the town is best-known for its "Goonies" ties, Astoria also provided the perfect filming locale for "Short Circuit," another cult classic from the mid-1980s. In fact, film buffs can spend the night in the very house where "Short Circuit" was filmed in Oregon. There's a lot to see and do here, making it one of our favorite destinations on the Oregon Coast.
Is Oregon a safe place to live?
Absolutely! Don't let the information above skew your thoughts on the Beaver State. In our humble opinion, Oregon is the very best place to live in the country! Its dashing good looks, friendly residents, and abundance of attractions and outdoor recreation all make The Beaver State a superlative superstar. Another feather in the state's cap is safety: Oregon is, by and large, a very safe place to live. Both violent crime and property crime rates are low in Oregon — in fact, the state has the lowest violent crime rate in the Pacific Northwest region. In terms of specific locales, the online research group Safewise recently released their seventh annual Safest Cities report, using FBI crime statistics data and demographic information to subjectively rank each state's safest places to live. Here's a roundup of the safest towns in Oregon.
Related Articles
Featured Addresses